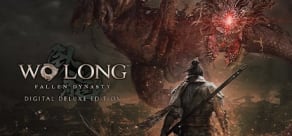 Wo Long: Fallen Dynasty - Digital Deluxe
About the game
Wo Long: Fallen Dynasty - Digital Deluxe includes:
Wo Long: Fallen Dynasty (full game)
Digital art book
Mini Digital Soundtrack
Season Pass (Includes Battle of Zhongyuan, Conqueror of Jiangdong, Jingxiang Uprising, and Qinglong Armor Season Pass Bonus DLC)
Note: Release dates for the DLCs included in the Season Pass may be subject to change.
DLC "Battle of Zhongyuan" scheduled for release in June 2023
DLC "Conqueror of Jiangdong" scheduled for release in September 2023
DLC "Upheaval in Jingxiang" scheduled for release in December 2023

THE GAME:
From the passages of darkness, a dragon rises.
A new fantasy action RPG set in the Three Kingdoms from Team NINJA, the creators of Nioh.
184 CE, Late Han Dynasty in China. The land is plunged into chaos and destruction. The imperial dynasty that prospered for many years is about to collapse.
Wo Long: Fallen Dynasty is the dramatic, action-packed story of an anonymous militia soldier fighting for survival in a fantasy version of the End of the Han Dynasty where demons plague the Three Kingdoms. You'll use swords and techniques proven in Chinese martial arts to face deadly creatures and enemy soldiers, while trying to awaken your true inner power to overcome adversity.
Wo Long refers to someone with special hidden talents and also to a hero or person of as yet unknown greatness. This is a story about officers who will be heroes, still in their "anonymity" period. It's also the story of a protagonist's rise from nothing.
Highlights
Demons in the Realm - In this immune fantasy set in the chaotic Three Kingdoms period, a narrative tells the story of a Militia soldier's intense struggle for survival during the demon-infested Late Han Dynasty. Madness like never before seen in the Three Kingdoms!
Awaken Your Hidden Power - Defeat deadly enemies, bolster your morale and awaken the hidden power! Use new strategies, including battle styles inspired by the "Five Phases", to overcome the odds.
Live by the sword - Known for their merciless attacks capable of dictating the outcome of battles, swordsmen who practice Chinese martial arts fluidly alternate between offensive and defensive postures. Show your strength and annihilate opponents in a series of intense and bloody battles, while gaining the precision and accuracy necessary to wield the sword like a master.
Various playstyles with weapons and magic.
Weapons - You can choose from a wide range of weapons, from spears to dual swords. Find out which one suits your combat style.
Magic - This secret art channels the power of the Five Phases, allowing you to use elemental attacks, such as fire and ice. By achieving a higher Morale Rating, you can gain the ability to use even more powerful Magic.
Divine Beasts - Divine Beasts, such as Zhuque and Baihu, are obtained through alliances with other warriors. By summoning these Divine Beasts, the power it can achieve is incalculable.
System Requirements
System requirements to be confirmed.