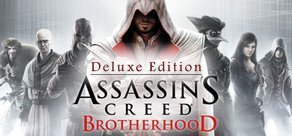 Assassin's Creed: Brotherhood Deluxe Edition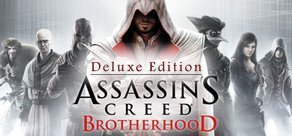 Assassin's Creed: Brotherhood Deluxe Edition
About the game
Special Edition containing numerous additional content.
Live and breathe like Ezio, a legendary Master Assassin, in his ongoing struggle against the powerful Knights Templar. He must travel in Italy's largest city, Rome, center of power, greed and corruption to attack the heart of the enemy.
Defeating the entrenched corrupt tyrants there will require not only strength, but the leadership, as Ezio has a whole Brotherhood that will gather at his side. Only by working together can Assassins defeat their mortal enemies.
And for the first time, introducing a never before seen multiplayer layer that allows you to choose from a wide range of unique characters, each with their own signature weapons and assassination techniques, and test their skills against other players from around the world.
It's time to join the Brotherhood.
Highlights
Arrange a group of assassins to assist in your battle against the secret Templar forces. Your job is to recruit and train assassins, turning them into super assistants to help you in your missions and tasks.
Call your fraternity with the Brotherhood Assistance Maneuver to attack opponents with brutal efficiency and to assist you in larger conflicts.
Bonus content
2 Exclusive Single-Player Maps:
Single-Player indoor map: The Trajan Market;
Map Single-Player outdoor: The Aqueduct;
2 Characters Multiplayer: The Harlequin & The Officer:
The Officer;
The Harlequin;
1 New Armor for Ezio: Helmschmied Drachen Armor;
The Original Codex by Altaïr;
Collectible Multiplayer Character Cards;
Rome weather;
Assassin's Creed Lineage: The Complete Movie Explore the events involving the father of Ezio and Giovanni Auditore from Firenze.
Making-Of Assassin's Creed Brotherhood: Behind the Brotherhood;
Game Soundtrack.
System Requirements
Minimum
OS:

Windows XP,Vista,Win 7

Storage:

8 GB

Processor:

Intel Core 2 Duo / AMD Athlon X2 64 @1.8 GHz

Memory:

2 GB

Graphics:

256 MB

DirectX:

9.0c
Recommended
OS:

Windows XP,Vista,Win 7 +

Storage:

8 GB

Processor:

Intel Core 2 Duo E6700 / AMD Athlon 64 X2 6000+ @ 2.6 GHz

Memory:

2 GB

Graphics:

512 MB, NVIDIA 8800 GT / ATI HD 4770

DirectX:

9.0c