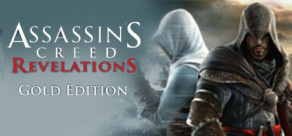 Assassin's Creed: Revelations Gold Edition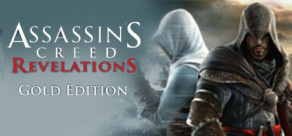 Assassin's Creed: Revelations Gold Edition
About the game
This special package includes the following contents:
The base game Assassin's Creed: Revelations
The first DLC The Ancestors Character Pack
The second DLC The Mediterranean
Traveler Map Pack The third DLC The Lost Archive
Highlights
The multiplayer mode, introduced in Brotherhood, is also present and with some improvements. Although the basic structure remains unchanged, new characters will be present for selection, as well as unpublished modes
Revelations brings new weapons to the murderer universe, creating a new way to interact with the scenario and to face the enemies. The hook-shaped blade, for example, allows the protagonist either to slip through wires and ropes - in a kind of medieval tyrolean - or to face guards with the new equipment. Items such as pumps and even a flamethrower will also be available.
Ancestors Multiplayer Character Pack
Get 4 new characters in multiplayer mode including: Private Swashbuckling, Deadly Corsair Siren, Opportunistic Brigand, Bloodthirsty Gladiator
Mediterranean Traveler Map Pack
Extend the Multiplayer experience of Assassin's Creed® Revelations Multiplayer with the addition of 6 multiplayer maps, introducing new gameplay opportunities across its varied terrain, perches and hideouts. This new digital content also comes with a new collection of achievements and trophies for those who want to try their hand at deaths and breakouts that are just as impressive as effective.
The Lost Archive
Explore the mysterious past of Subject 16 and Lucy Stillman in 2 hours of new content for single player mode using groundbreaking storytelling and pioneering gameplay in Desmond's current day sequel platformer in Assassin's Creed Revelations.
System Requirements
Minimum
OS:

Windows XP / Windows Vista / Windows 7

Storage:

12 GB

Processor:

Intel Core 2 Duo E4300 / AMD Athlon 64 X2 4600+ / 1.8GHz

Memory:

2 GB

Graphics:

256MB, NVIDIA 8800 GT / ATI HD 3850

DirectX:

9.0c
Recommended
OS:

Windows XP/ Windows Vista/ Windows 7

Storage:

12GB

Processor:

Intel Core 2 Duo E7300 2.66ghz / AMD Athlon II X2 255

Memory:

4GB

Graphics:

512MB, Nvidia Geforce GTS 250 / ATI Radeon HD 5670

DirectX:

9.0c