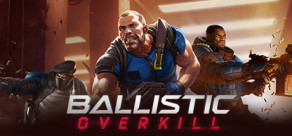 Ballistic Overkill
About the game
Ballistic Overkill is a fast paced PvP shooter. Easy pick up and play, no complicated setups or rules: it's kill or be killed!
Select one of 7 classes, each with their own skills and weapons. Make multiple loadouts with each, creating different builds within the same character. No wimpy support classes, in Ballistic everyone is a killer!
With over 80 weapons ingame, there's ever a new way to kill your enemies in Ballistic. But even better, all weapons have droppable skins that you can trade and/or sell through the Steam Market system. Every couple of months, the drop Season changes, allowing players to drop different skins and seek different accessories.
Highlights
Over 80 weapons
7 Classes
10 Maps
4 Game Modes
Steam Market integration
Classes
Berserker – deadly close combat rushdown expert
Vanguard – master of field survival and assault specialist
Wraith – infiltrator and ranged assassin
Shadow – master of speed and stealth assassinations
Grenadier – bane of the campers and explosions maniac
Tank – towering machine-gun toting survival expert
Marksman – perceptive and adaptable intelligence specialist
Class based lockboxes
2-4 drops per week
No keys required to open lockboxes
5 different item rarities: common, advanced, special, elite and legendary
Collect skins to gain access to special season based accessories
Maps and Modes: From parks, to malls, to abandoned hospitals and factories, Ballistic covers a wide variety of locations in its 10 maps. Some are large and some are small, but all of them have personality and something that makes it unique. All maps have multiple game modes available, including:
Team Deathmatch
Free for All
Capture Point
King of the Hill
System Requirements
Minimum
OS:

Windows 7

Storage:

4 GB

Processor:

Intel Core 2 Duo 2.0 GHz

Memory:

2 GB

Graphics:

Intel HD Graphics 4000

DirectX:

9.0c
Recommended
OS:

Windows 7

Storage:

8 GB

Processor:

Intel Core i5 2.5 GHz

Memory:

4 GB

Graphics:

GeForce 8000

DirectX:

9.0c
Minimum
OS:

Mountain Lion

Storage:

4 GB

Processor:

Intel Core 2 Duo 2.0 GHZ

Memory:

2 GB

Graphics:

Intel HD Graphics 4000
Recommended
OS:

Mountain Lion

Storage:

8 GB

Processor:

Intel Core i5 2.5 GHz

Memory:

4 GB

Graphics:

GeForce 8000
Minimum
OS:

Linux Ubuntu 12.04

Storage:

4 GB

Processor:

Intel Core 2 Duo 2.0 GHZ

Memory:

2 GB

Graphics:

Intel HD Graphics 4000
Recommended
OS:

Linux Ubuntu 12.04

Processor:

Intel Core i5 2.5 GHz

Memory:

4 GB

Graphics:

GeForce 8000 Series