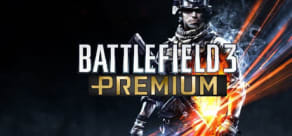 DLC
Battlefield 3™ - Premium Service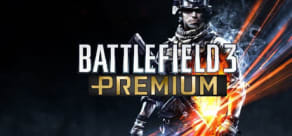 DLC
Battlefield 3™ - Premium Service
About the game
Content included in Battlefield 3 Premium (all Battlefield 3 expansions):
Battlefield 3: Back to Karkand
Battlefield 3: Close Quarters
Battlefield 3: Armored Kill
Battlefield 3: Aftermath
Battlefield 3: End Game
THE GAME:
Battlefield 3 Premium includes expansion packs Back to Karkand, Close Quarters, Armored Kill, Aftermath, and End Game. If you buy Battlefield 3 Premium, these should be accessed through the Battlefield 3 Game Details page on Origin at no extra charge.
Take your Battlefield 3 multiplayer experience to the next level with Battlefield 3 Premium! Containing a truly staggering amount of content, Battlefield 3 Premium offers a unique opportunity to play all upcoming expansion packs early, increase your soldier customization options, and receive a number of exclusive in-game items all for a one-time fee.
This membership will give you all five themed expansion packs for Battlefield 3 – including two weeks' early access. You will also receive a host of unique in-game items not available anywhere else, including the ACB-90 knife, a set of dog tags, and exclusive soldier and weapon camos.
Battlefield 3 Premium members will also get access to powerful new features such as the ability to reset their stats, queue priority into servers, and new decals for their Platoon emblems.
Whether you want to get early access, stand out with unique in-game items, or use the powerful new features on offer, Battlefield 3 Premium gives you an unprecedented multiplayer experience.
Highlights
JOGUE ANTES TODOS OS PACOTES DE EXPANSÃO
Obtenha os cinco pacotes de expansão temáticos de Battlefield 3 e jogue-os com duas semanas de antecedência. 

DESTAQUE-SE COM ITENS EXCLUSIVOS NO JOGO
Seja reconhecido e ganhe destaque com itens exclusivos no jogo, incluindo a faca única ACB-90 e um conjunto de placas de identificação de Battlefield 3 Premium Service. Personalize ainda mais a sua experiência com as novas camuflagens de soldados e de armas, além de Tarefas únicas.

ACESSE RECURSOS PODEROSOS
Com Battlefield 3 Premium Service você tem a chance de restaurar suas estatísticas de Pontuação/Minuto, Eliminações/Mortes e Vitórias/Derrotas se quiser um novo começo com o seu soldado do multiplayer. Para reconhecermos ainda mais o seu status, concedemos prioridade na fila dos servidores, mais marcas na parede para os seus emblemas do Pelotão e a habilidade de favorito para armazenar cinco dos seus Relatórios de Batalha permanentemente.

ENTRE EM EVENTOS EXCLUSIVOS 
Suba mais rápido de nível com os eventos de XP Dupla e participe de competições únicas.

TENHA GUIAS DE ESTRATÉGIA & VÍDEOS
Assista aos vídeos com dicas de jogo que foram gravados pelos desenvolvedores, na DICE, acesse um conjunto de guias de estratégia completo e dê espiadas exclusivas nos próximos pacotes de expansão .
CONTEÚDO E RECURSOS INCLUÍDOS
Todos os pacotes de expansão de Battlefield 3 com acesso antecipado de duas semanas:
Battlefield 3: Back to Karkand
Battlefield 3: Close Quarters
Battlefield 3: Armored Kill
Battlefield 3: Aftermath
Battlefield 3: End Game
Combinados, esses cinco pacotes de expansão contam com 20 mapas, 20 novas armas, mais de 10 novos veículos, 4 novos modos de jogo, mais de 30 Tarefas e mais de 20 placas de identificação
Faca inédita no jogo
Placas de identificação únicas
Mais de 10 camuflagens de soldados
Camuflagens de armas
Recurso para restaurar estatísticas
Mais de 10 marcas na parede para os seus emblemas do Pelotão
Camadas melhoradas dos emblemas do Pelotão
Fila preferencial nos servidores
Salve até cinco dos seus Relatórios de Batalha preferidos
Mais de 5 tarefas únicas
Competições exclusivas
Eventos exclusivos de XP Dupla
Vídeos exclusivos
Guias de estratégia
Conteúdo bônus adicional
System Requirements
Minimum
OS:

Windows 7 64-bit

Storage:

20 GB

Processor:

2 GHz Dual Core (Core 2 Duo 2.4 GHz or Althon X2 2.7 GHz)

Memory:

2 GB RAM

Graphics:

DirectX 10 compatible with 512 MB RAM
Recommended
OS:

Windows 7 64-bit

Storage:

20 GB

Processor:

Quad-core CPU

Memory:

4 GB RAM

Graphics:

irectX 11 compatible with 1024 MB RAM (NVIDIA GeForce GTX 560 or ATI Radeon 6950)