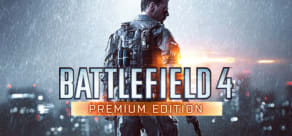 Battlefield 4™ Premium Edition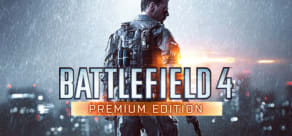 Battlefield 4™ Premium Edition
About the game
The Battlefield 4 Premium Edition includes:
Five digital expansion packs, with new game content and multiplayer maps;
Two weeks early access to all expansion packs, ensuring a competitive advantage;
Exclusive personalization options including camouflages, paints, badges, tags and more;
Priority position in server queues;
New challenges and weekly content;
12 Battle Packs.
THE GAME:
Embrace unrivaled destruction in Battlefield 4. Revel in the glorious chaos of all-out war packed with rewarding, tactical challenges in an interactive environment. Demolish the buildings shielding your enemy and lead an assault from the back of a gun boat. You have the freedom to do more and be more, playing to your strengths and carving your own path to victory. There is no comparison. Immerse yourself in the glorious chaos of all-out war.
Highlights
Dynamic battlefields. These interactive environments react to your actions in real-time, so go ahead and trigger a shipwreck or flood the streets. Your opponents won't know what hit 'em.
More vehicles, more destruction, more freedom. Experience an unmatched level of all-out war with more vehicles and destruction than ever before. Plus, the huge scope and scale of the maps grants you the freedom to play to your strengths and carve your own path to victory.
Launch an amphibious assault. Man the guns and face the storm to bring down your opponents. Dominate land, air, and sea with all-new, intense water-based vehicular combat.
Intense single-player campaign. Battlefield 4 features an intense, character-driven campaign that starts with the evacuation of American VIPs from Shanghai and follows your squad's struggle to find its way home.
All five expansion packs. Get 20 new maps, 48 exclusive assignments, new modes and more.
Exclusive personalization options. Outfit yourself with the latest camos, paints, emblems and dog tags. With gear for all four combat roles, the combinations are endless.
Priority position in server queues. Jump into the fight as quickly as possible. Priority position means you can start breaking the enemy faster.
12 bonus Battlepacks. Lock n' load with rare weapons, gun attachments, XP boosts and customizations only available to Premium members.
System Requirements
Minimum
OS:

Windows Vista SP2 32-bit

Storage:

30 GB

Processor:

AMD Athlon X2 2,8 GHz / Intel Core 2 Duo 2,4 GHz

Memory:

4 GB RAM

Graphics:

AMD Radeon HD 3870 / Nvidia GeForce 8800 GT [512 MB VRAM]
Recommended
OS:

Windows 8 64-bit

Storage:

30 GB

Processor:

AMD Six-core CPU / Intel Quad-core CPU

Memory:

8 GB RAM

Graphics:

AMD Radeon HD 7870 / NVIDIA GeForce GTX 660 [3GB VRAM]