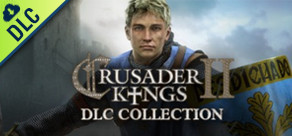 DLC
Crusader Kings II: DLC Collection
About the game
The Dark Ages may be coming to an end, but Europe is still in turmoil.
Crusader Kings: II, as well as its previous version, is set in the low average age, between 1066 to the final moments of the Hundred Years War in 1453, in addition to covering the time of the crusades to the holy land, which is what gives name the game.
In Crusader Kings: II, is a European aristocrat and win or lose influence over his people and neighboring countries. strategically dominate a comprehensive system of heirs and vassals to increase their historical level will be your challenge!
Highlights
Crusader Kings II: Dynasty Shields
Crusader Kings II: Mongol Faces
Crusader Kings II: Songs of Albion
Crusader Kings II: Songs of Faith
Crusader Kings II: Ruler Designer
Crusader Kings II: Songs of the Holy Land
Crusader Kings II: African Unit Pack
Crusader Kings II: Songs of the Caliph
Crusader Kings II: Sword of Islam
Crusader Kings II: Dynasty Shield II
Crusader Kings II: Legacy of Rome
Crusader Kings II: Byzantine Unit Pack
Crusader Kings II: African Portraits
Crusader Kings II: Songs of Byzantium
Crusader Kings II: Sunset Invasion
Crusader Kings II: Russian Portraits
Crusader Kings II: Russian Unit Pack
Crusader Kings II: Songs of the Rus
Crusader Kings II: The Republic
Crusader Kings II: Mediterranean Portraits
Crusader Kings II: Songs of Prosperity
Crusader Kings II: The Old Gods
Crusader Kings II: Norse Unit Pack
Crusader Kings II: Norse Portraits
Crusader Kings II: Hymns to the Old Gods
Crusader Kings II: Celtic Unit Pack
Crusader Kings II: Celtic Portraits
Crusader Kings II: Dynasty Shield III
Crusader Kings II: Europa Universalis IV Converter
Crusader Kings II: Customization Pack
Crusader Kings II: Sons of Abraham
Crusader Kings II: Military Orders Unit Pack
Crusader Kings II: Warriors of Faith Unit Pack
Crusader Kings II: Hymns of Abraham
Crusader Kings II: Saxon Unit Pack
Crusader Kings II: Finno-Ugric Unit Pack
Crusader Kings II: Rajas of India
Crusader Kings II: Turkish Unit Pack
Crusader Kings II: Turkish Portraits
Crusader Kings II: Songs of India
Crusader Kings II: Persian Unit Pack
Crusader Kings II: Persian Portraits
System Requirements
Minimum
OS:

XP / Vista / Windows 7

Storage:

2 GB

Processor:

Intel® Pentium® IV a 2.4 GHz o AMD 3500+

Memory:

2 GB

Graphics:

nVidia® GeForce 8800 / ATI Radeon® X1900 con 512 MB de VRAM
Minimum
OS:

Mac OS X 10.6.8

Storage:

2 GB

Processor:

Intel Core Duo a 2 GHz

Memory:

2 GB

Graphics:

ATI Radeon HD 6750 / nVidia GeForce 320 / nVidia GeForce 9600