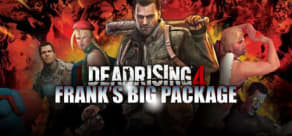 DEADRISING 4 - Frank's Big Package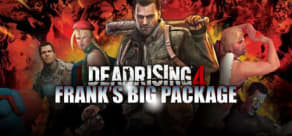 DEADRISING 4 - Frank's Big Package
About the game
Dead Rising 4 marks the return of photojournalist Frank West in an all-new chapter of one of the most popular zombie game franchises of all time. All of the classic hallmarks of the ground breaking series return, including a huge array of weapons and vehicles players can combine to combat the horde ranging from the practical – to the practically insane. Players will also enjoy ambitious new features including new zombie classes, EXO Suits, and 4-player co-op multiplayer. With intense action and an unmatched level of weapon and character customization, Dead Rising 4 delivers a heart-pounding experience as players explore, scavenge and fight to survive in an epic open world sandbox.
The Dead Rising 4 Season Pass is the gift that keeps on killing. The Season Pass grants you access to new ways to play in Willamette, new story content and the exclusive bonus Stocking Stuffer Holiday Pack. Stay tuned for more details.
Highlights
Frank West returns! – The original Dead Rising protagonist and photojournalist Frank West returns 16 years after the events of Willamette, complete with his brand new camera phone to capture those zombie selfies and unveil hidden objects around the town
Open World Sandbox – Explore and scavenge the huge spaces of the Willamette Memorial Megaplex for weapons and costumes to combat the zombie apocalypse and take a trip out to the town to find extra clues
Anything and everything is a weapon – Create your own tools of zombie destruction by creating hundreds of potential weapon combinations ranging from the practical to the truly insane like the Suckmaster 3000 or the Sledge Saw
Two all new classes of zombies! – Players will encounter the Fresh and Evo zombies. The Fresh zombies have only recently been affected, fuelling them with rage and charging directly at players. Evo zombies are cunning killers who will keep players on their feet and guessing their next move.
Step inside the EXO suit – Ranging from the over the top to the truly bizarre, players can now arm themselves with a super powered suit of armour that brings them super strength and incredible fire power to take on the zombie hordes.
Engaging multiplayer – Play with 3 other friends to complete missions and conquer the zombie infested Willamette Memorial Megaplex Mall.
Bonus content
By purchasing DEADRISING 4 - Frank's Big Package you get the following content:
Dead Rising 4 (Jogo Base);
Dead Rising 4 - Season Pass;
Dead Rising 4 - Candy Cane Crossbow;
Dead Rising 4 - Sir-Ice-A-Lot;
Dead Rising 4 - Slicecycle;
Dead Rising 4 - Ugly Winter Sweater;
Dead Rising 4 - X-Fists.