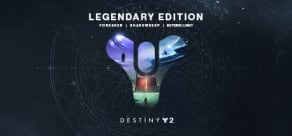 Destiny 2: Legendary Edition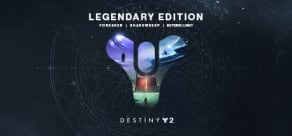 Destiny 2: Legendary Edition
About the game
Experience the epic sci-fi action of Destiny 2 and all of its expansions with Destiny 2: Legendary Edition. Create your Guardian and enjoy a cinematic storyline in an ever-evolving universe. Join your fellow Guardians for challenging co-op missions, or compete against them in a variety of PvP modes. This edition includes the critically acclaimed expansions Forsaken, Shadowkeep, and Beyond Light, as well as access to the currently active season content.
Destiny 2: Forsaken
In a high-stakes prison escape, Uldren and his eight Barons took out the legendary Hunter, Cayde-6, and unleashed chaos across the Reef. Take justice into your own hands as you venture into a new frontier filled with enemies, allies, untold mysteries, and treasures waiting to be uncovered. Amazing gear and nine new Supers are at your disposal. Make the most of them, Guardian!
Destiny 2: Shadowkeep
As the heroes of the last safe city turn their attention to the far-reaching frontiers of our galaxy, new Nightmares have emerged from an ancient evil that once slumbered beneath the Lunar surface. Journey deep into a mysterious Hive Keep and work with Eris Morn to slay the Nightmares before they cast humanity into a permanent age of darkness.
Destiny 2: Beyond Light
The frontier of Europa holds many lost secrets, including the dark power of Stasis. Work with the mysterious Exo Stranger to harness this new power before Eramis, the Kell of Darkness, bestows it on her Fallen forces. Grow your arsenal, command Stasis, and go beyond the Light.
Highlights
Destiny 2: Renegados: Em uma arriscada fuga da prisão, Uldren e seus oito Barões eliminaram Cayde-6, o lendário Caçador, e levaram o caos a todo o Arrecife. Faça justiça com as próprias mãos ao se aventurar em uma nova fronteira repleta de inimigos, aliados e incontáveis mistérios e tesouros a serem descobertos. Equipamentos incríveis e nove supers inéditas a sua disposição. Usem isto ao máximo, Guardiões.
Destiny 2: Fortaleza das Sombras: Enquanto os heróis da última cidade segura prestam atenção às distantes fronteiras da nossa galáxia, novos Pesadelos emergem de um mal antigo antes adormecido sob a superfície lunar. Aventure-se nas profundezas de uma misteriosa fortaleza da Colmeia e ajude Eris Morn a aniquilar pesadelos antes que eles consigam mandar a humanidade à era da treva para sempre.
Destiny 2: Além da Luz: A fronteira de Europa esconde muitos segredos, entre eles o poder sombrio da estase. Trabalhe com a misteriosa Estranha Exo para domar esse novo poder antes que Eramis, a Kell da Treva, o conceda à sua tropa de Decaídos. Aumente seu arsenal, domine a estase e vá além da Luz.