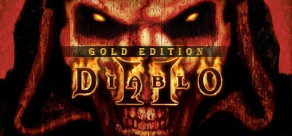 Diablo 2: Gold Edition
About the game
A hero must rise. Diablo, the Lord of Terror, has fallen to a brave hero beneath the church of Tristram. Now that hero is gone, replaced by a Dark Wanderer who roams the world of Sanctuary leaving death and destruction in his wake. As a hero of humanity, you must face the minions of Diablo's evil brothers and stop the Dark Wanderer before he fulfills his terrible destiny.
Defeat the last Prime Evil! The expansion to Diablo II adds a host of new features to the game, including two new playable classes – the shapeshifting Druid and the cunning Assassin. Explore the snowy homeland of the Barbarians, face fiendish new monsters, and arm yourself with thousands of new weapons, armor, and magical items in the fight against Baal, the last of the Prime Evils.
Highlights
Torne-se um herói lendário: Lute contra os lacaios do Inferno como a Amazona, Maga, Necromante, Paladino ou Bárbaro. Conforme você viaja pelo imenso mundo de Santuário, você irá aprender novas habilidades, encontrar poderosas armas e armaduras, e aprimorar seu equipamento com magia à medida em que a lenda e a força de seu herói se desenvolvem.
Domine múltiplos níveis de dificuldade: Conforme você avança, derrote os lacaios de Diablo no modo Pesadelo para ter desafios e recompensas maiores. Ao se tornar forte o bastante, você irá entrar no modo Inferno, onde seus inimigos se tornarão incrivelmente ameaçadores e as recompensas serão épicas!
Derrote Diablo® online com seus amigos: Batalhe conectado com até sete amigos via Battle.net, o serviço de jogo gratuito da Blizzard Entertainment. Encontre partidas, faça trocas, e deixe sua marca nos ranques regionais.
Duas novas classes: Libere a fúria de sessenta novas habilidades e feitiços como a furtiva Assassina, que usa artes marciais e armadilhas letais, ou o metamorfo Druida, com sua magia natural e lacaios. Ambos novos personagens podem ser jogados nos quatro atos originais de Diablo II e no novo quinto ato.
Derrote um novo exército do mal: Você pôs um fim ao reinado maligno de Diablo, mas agora um desafio final o aguarda. Baal fugiu para as terras gélidas do Norte, e você precisa partir em seu encalço para salvar o plano mortal da corrupção eternal. Lute contra mais de uma dúzia de novos inimigos demoníacos, incluindo Capatazes, Profanadores Pútridos e as Hordas Reanimadas conforme luta em guarnições fortificadas ou enfrenta implacáveis veículos de cerco.
Equipe um arsenal expandido: Descubra milhares de novos itens Mágicos, Únicos, Conjuntos, Excepcionais e de Elite e guarde-os no seu baú pessoal expandido. Itens Artesanais, Palavras Rúnicas, Jóias e outros aprimoramentos adicionam novas formas de aumentar o poder de seus personagens.
Bonus content
Diablo 2: Gold Edition inclui:
Diablo 2 (jogo base)
Lord of Destruction (expansão)
System Requirements
Minimum
OS:

Windows Vista®, Windows® XP

Storage:

1,9 GB

Processor:

Windows XP: Pentium® de 233 MHz | Windows Vista: Processador de 800 MHz

Memory:

Windows XP: 64 MB RAM | Windows Vista: 512 MB RAM

Graphics:

800 x 600
Recommended
OS:

Windows® 7 / Windows® 8 / Windows® 10 (64 bits)

Storage:

1,9 GB

Processor:

1 GHz

Memory:

Windows 32 bits: 1 GB RAM | Windows 64 bits: 2 GB RAM

Graphics:

800 x 600 — 1024 x 786
Minimum
OS:

Mac® OS X 10.10

Storage:

1,9 GB

Processor:

Intel® Core™ 2 Duo

Memory:

2 GB

Graphics:

NVIDIA® GeForce® GT 330M / ATI™ Radeon™ HD 4670
Recommended
Storage:

1,9 GB

Processor:

Intel® Core™ 2 Duo

Memory:

2 GB

Graphics:

NVIDIA® GeForce® GT 330M / ATI™ Radeon™ HD 4670