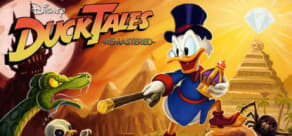 Ducktales Remastered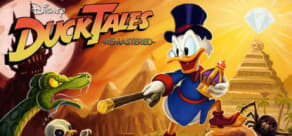 Ducktales Remastered
About the game
DuckTales: Remastered is a beautiful hand-crafted reimagining of one of the most cherished 8-bit titles of all time. Go back to one of the golden ages of gaming, now refined with a level of detail that will please the most hardened devoted Disney or retro Capcom fan alike. 

Featuring hand-drawn animated sprites, authentic Disney character voices talent and richly painted level backgrounds from the classic cartoon TV series, Scrooge McDuck and family come to life like never before. The gameplay retains the authenticity of its 8-bit predecessor; simple and fun, with slight modifications to improve gameplay flow and design. 

Embark on an authentic DuckTales adventure, as Scrooge McDuck and his three nephews Huey, Dewey and Louie travel to exotic locations throughout the world in their quest to retrieve the five Legendary Treasures.
Highlights
Reviva a clássica série de TV dos anos 80 - Siga as aventuras do Tio Patinhas e seus três sobrinhos, Huguinho, Zezinho e Luizinho, enquanto eles se defendem de inimigos como os Irmãos Metralha e a Maga Patalójica, em sua tarefa de obter os cinco tesouros mais incríveis ao redor do mundo
Visual redesenhado à mão - Desenvolvedor WayForward tomou como referência o visual original do jogo 8-bit e melhorou e recriou significativamente como sprites desenhados à mão e paisagens belamente reimaginados.
Experiência autêntica da Disney - Alguns dos seus personagens favoritos da Disney ganham vida com as vozes originais da clássica série DuckTales e as paisagens que inspiraram os episódios da série.
Aprenda em um pulo - Com um novo nível tutorial, aprenda as habilidades básicas de jogo, incluindo o icônico pogo jump e swing cane.
Visite o museu - Rastreie suas conquistas, evolua e ganhe status no painel de liderança do novo museu do Tio Patinhas.
Guarde suas moedas no Caixa Forte do Tio Patinhas - Uma nova área jogável, o Caixa Forte do Patinhas permite os jogadores rastrearem a riqueza acumulada e até mesmo dar um mergulho em suas últimas riquezas.
Trilha sonora digitalmente melhorada - Construído baseado nas versões originais, a trilha sonora de DuckTales: Remastered cria uma moderna e ampliada iteração das músicas clássicas.
System Requirements
Minimum
OS:

Windows®XP™ SP2, Windows®Vista™ or Windows®7

Processor:

Intel™ Pentium 4 2.4 ghz