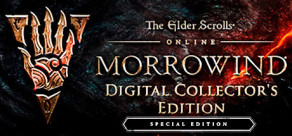 The Elder Scrolls Online - Morrowind Digital Collector's Edition
About the game
In this package you get the base game: The Elder Scrolls Online - Morrowind + to DLC The Elder Scrolls Online - Morrowind - Digital Collectors Items; use the upgrade to your advantage, explore your skills and discover all the dark secrets of Morrowind.
Adventure awaits in this new chapter of the award-winning online series. Morrowind is on the verge of destruction, and it's up to you to save it from a deadly Daedric threat. Embark on a dangerous journey through legendary locales, from volcanic ashlands to mushroom-filled forests.
Highlights
Digital Collector-s Edition contais:
Collector's Edition Grey War Bear – Get an exclusive grey War Bear to fight by your side while playing as a Warden.
Armored War Horse – Charge into battle atop this steed clad in armor fashioned with ancient Dwarven plate.
Dwarven Spider Pet – Your personal Dwarven Spider is ready for your adventure through Vvardenfell. Dwarven oil not included.
Morag Tong Converter – Flaunt your commitment to the assassins by customizing your gear with the distinct style of the Morag Tong.
Character Emotes – Celebrate your victory in the battlegrounds with this bundle of exclusive emotes.
The Elder Scrolls Online - Morrowind - Digital Collectors Items contains:
Exclusive Warden Costume – Dress your character in the Warden's costume as seen in The Elder Scrolls Online: Morrowind announce trailer.
Dwarven War Dog Pet – Your armored companion will never leave your side as you adventure throughout Vvardenfell.
Treasure Maps – Vvardenfell holds many secrets. These maps will help you discover some of their greatest rewards.
Dwarven Crown Crate – This special Crown Crate has a chance to contain Dwarven-themed mounts, pets, costumes, and more!
Experience Scrolls – Advance through Vvardenfell gaining 50% more experience points for two hours.
System Requirements
Minimum
OS:

Windows 7 (32bit) +

Storage:

85 GB

Processor:

Intel i3 or AMD 3870 +

Memory:

3 GB

Graphics:

Direct X 11.0 compliant, 1GB RAM (NVidia GeForce 460 +

DirectX:

11
Recommended
OS:

Windows 7 +

Storage:

85 GB

Processor:

Quad Core 2.3GHz +

Memory:

4 GB

Graphics:

Direct X 11.0, 2GB RAM (NVidia GeForce GTX 750, AMD Radeon HD 7850)

DirectX:

11