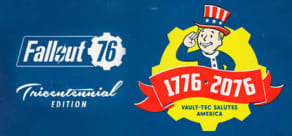 Fallout 76 Tricentennial Edition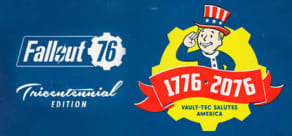 Fallout 76 Tricentennial Edition
Available Countries
A1
Åland Islands
Albania
Andorra
Antigua & Barbuda
Argentina
Armenia
Austria
Azerbaijan
Bahamas
Barbados
Belarus
Belgium
Belize
Bermuda
Bolivia
Bosnia & Herzegovina
Brazil
Bulgaria
Chile
Colombia
Costa Rica
Croatia
Cuba
Cyprus
Czech Republic
Denmark
Dominica
Dominican Republic
Ecuador
El Salvador
Estonia
European Union
Falkland Islands
Finland
France
French Guiana
Georgia
Germany
Greece
Greenland
Grenada
Guatemala
Guyana
Haiti
Honduras
Hungary
Iceland
Ireland
Italy
Jamaica
Latvia
Liechtenstein
Lithuania
Luxembourg
Macedonia
Malta
Mexico
Moldova
Monaco
Montenegro
Netherlands
Nicaragua
Norway
Panama
Paraguay
Peru
Poland
Portugal
Puerto Rico
Romania
San Marino
Serbia
Slovakia
Slovenia
South Georgia & South Sandwich Islands
Spain
St. Kitts & Nevis
St. Lucia
St. Vincent & Grenadines
Suriname
Sweden
Switzerland
Trinidad & Tobago
Turkey
Ukraine
United Kingdom
Uruguay
Vatican City
Venezuela
About the game
Day of Resumption, 2102. Twenty-five years after the bombs fall, you and your fellow Refugees - chosen from among the best and brightest in the nation - emerge in a post-nuclear America. Play individually or together and explore, do quests, build, track and triumph in the face of the greatest threats of the Ermos.
Bethesda Game Studios, award-winning creator of Skyrim and Fallout 4, features Fallout 76, the online prequel in which every human survivor is a real person. Work as a team, or not, to survive. Under the threat of nuclear annihilation, experience the largest and most dynamic world ever created in the legendary universe of Fallout.
Highlights
Powerful Tricentennial Armor Customization for Powerful T-51, T-45, T-60 and X-01 Armor;
Tricentennial Weapon Customization for 10MM Pistol, Hatchet and Laser Rifle;
Vault Boy's Mascot Head Spectacularly Beautiful;
Uncle Sam Patriotic Clothes;
Vault Boy Commemorative Greeting;
First Class Tricentennial Workshop Posters;
Tricentennial Commemorative Photo Frame.
System Requirements
Minimum
OS:

Windows 7/8.1/10 (64-bit versions)

Storage:

60 GB

Processor:

Intel Core i5-6600k 3.5 GHz /AMD Ryzen 3 1300X 3.5 GHz +

Memory:

8 GB RAM

Graphics:

NVIDIA GTX 780 3GB/AMD Radeon R9 285 2GB
Recommended
OS:

Windows 7/8.1/10 (64-bit versions)

Storage:

60 GB

Processor:

Intel Core i7-4790 3.6 GHz / AMD Ryzen 5 1500X 3.5 GHz

Memory:

8 GB

Graphics:

Nvidia GTX 970 4GB / AMD R9 290X 4GB