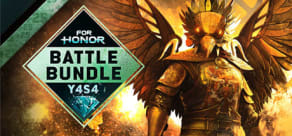 DLC
For Honor - Y4S4 Battle Bundle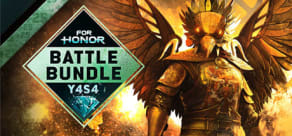 DLC
For Honor - Y4S4 Battle Bundle
About the game
Whether you choose the path of a Horkos Warrior, or join the Chimera Alliance to protect the people, the Y4S4 Battle Bundle gives you access to 100 tiers of rewards.
Highlights
This Battle Bundle includes the following rewards for all 28 heroes:
Instantly unlock the next 25 tiers in your current progression
1 execution (per hero)
1 weapon set (per hero)
1 podium (per hero)
2 battle outfits (per hero)
2 effects (idle/emote/execution per hero)
Color swatches, paint patterns, symbols, embossings, emblem customization
A 10% bonus in battle points earned through completed matches
And much more!
 
The For Honor® Y4S4 Battle Bundle offer is an extended offer of the Y4S4 Battle Pass.
This Y4S4 Battle Bundle is available until March 9th, 2021 and is not eligible for refund.
System Requirements
Minimum
OS:

Windows 7, Windows 8.1, Windows 10 (64-bit)

Storage:

40 GB

Processor:

Intel Core i3-550 | AMD Phenom II X4 955

Memory:

4 GB

Graphics:

NVIDIA GeForce GTX660/GTX750ti/GTX950/GTX1050 (2 GB VRAM) | AMD Radeon HD6970/HD7870/R9 270/R9 370/RX460 (2 GB VRAM))
Recommended
OS:

Windows 7, Windows 8.1, Windows 10 (64-bit )

Storage:

40 GB

Processor:

Intel Core i5-2500K | AMD FX-6350

Memory:

8 GB

Graphics:

VIDIA GeForce GTX680/GTX760/GTX970/GTX1060 (2 GB VRAM+) | AMD Radeon R9 280X/R9 380/RX470 (2 GB VRAM+)