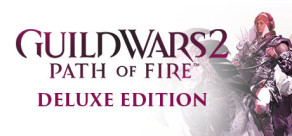 DLC
Guild Wars 2: Path of Fire - Deluxe Edition
Available Countries
Belize
Canada
Costa Rica
El Salvador
Greenland
Guatemala
Honduras
Mexico
Nicaragua
Panama
Puerto Rico
St. Pierre & Miquelon
United States
About the game
Guild Wars 2: Path of Fire Deluxe is the second expansion for the award-winning game, Guild Wars 2. Also, get access to Guild Wars 2 Heart of Thorns.
As the balance of magic comes undone, lead your allies in the hunt for the rogue god Balthazar, whose scorched-earth campaign threatens the very existence of Tyria. Journey to an ancient land on a desperate mission to save Tyria! Master your way in Guild Wars 2: Path of Fire Deluxe!
The world of Tyria knew the conflict, chaos, and generations of war. Rarely has there been time for peace on these troubled lands. The years since the rise of Kormir and the defeat of The Great Destroyer were no different. The world is no longer the Tyria it once was.
Devastated by the fury of the five Ancestral Dragons, the world of Tyria is no longer as it once was. It is up to the surviving races to unite to face the new threat. The only hope is to recreate the legendary group of heroes who once stood against the servants of the dragons and triumph!
Highlights
Guild Wars 2: Path of Fire: a game serial code for account creation or upgrade for the Guild Wars 2: Path of Fire expansion; get immediate access to the Guild Wars 2 game upon redemption of a Guild Wars 2: Path of Fire serial code and play today.
Max-Level Boost: boost one of yout characters to level 80 and explore the Living World of Tyria! The boost is delivered in a permanent account-wide bag slot, and we'll equip yout character with a hoard full of goods - including gear, gold, and more - to give you a head start in the fight to save Tyria.
Additional Character Slot: an additional character slot to use with your game account.
Identity Repair Kit: use this kit to give your character a brand new look and name to go with it. This kit includes one Total Makeover Kit and one Name Change Contract.
Spearmarshal's Presence: an heirloom passed down by Elona's greatest heroes. This item will unlock the Spearmarshal's Garb outfit for use by every character on your account.
Lily of the Elon Permanent Pass: rub elbows with Amnoon's elite with an exclusive pass to a luxury riverboat casino notorious for serving both the nobility and criminal underground. This decadent den of iniquity offers convenience and comfort to those in the know, with access to vendors, banking, the Black Lion Trading Company, and more.
Guild Hall: Claim a beautiful new home for your guild and live like Elonian nobility (Players must own Guild Wars 2: Heart of Thorns to claim and fully upgrade their guild hall).
Bounties: Kick off challenging boss events whenever you're ready to take them on. Everyone can join the hunt!
Rewards: Collect and upgrade armor sets and weapon skins that reflect the beauty, magic, and history of the desert.
System Requirements
Minimum
OS:

Windows 7 +

Storage:

50 GB

Processor:

Intel® Core 2 Quad 2.4 GHz, Core i3, AMD Athlon 64 X2 +

Memory:

4 GB

Graphics:

NVIDIA® GeForce® 8800GTS, ATI Radeon HD 2900 XT +
Minimum
OS:

Mac OS®X 10.9.X +

Storage:

50 GB

Processor:

Intel® Core™ i5 +

Memory:

4 GB

Graphics:

NVidia® GeForce® 320M, ATI Radeon™ HD 6630M, Intel HD 3000 +