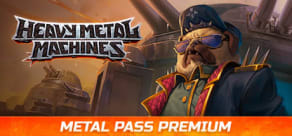 DLC
HMM Metal Pass Premium Season 4
Available Countries
Canada
Mexico
United States
About the game
Metal Pass is the progression system where the players have access to weekly challenges and amazing in-game rewards. This seasonal journey is the path to level your account up and get over 90 items by winning the challenges!
The Metal Pass Premium ensures that you receive twice as many rewards per level, and also makes you progress faster on the season, achieving the best items.
Highlights
4th Season Rewards: the season includes more than 90 rewards total, and with the Premium, you will also get:
A Heavy Metal model for Photon and Full Metal Judge;
New Metal Legend Models for Stargazer, Black Lotus and Clunker;
New Rockstar Models for Artificer and Icebringer.
Lots of new Sprays;
New thematic Visual Effects for the matches;
5 New Avatar Portraits.