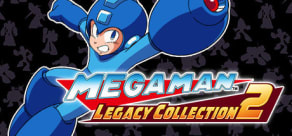 Mega Man Legacy Collection 2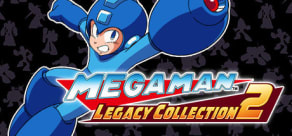 Mega Man Legacy Collection 2
About the game
The Blue Bomber is back in this second collection of classic Capcom titles! Featuring faithful reproductions of Mega Man 7, 8, 9, & 10, this collection spans the iconic series' evolution and retro revolution. Take on the nefarious Dr. Wily and his diverse Robot Masters in these timeless 8-bit, 16-bit, and 32-bit adventures!
Mega Man Legacy Collection 2 is bursting with additional content, from time trials and remix challenges with online leaderboards, to a music player and an extensive gallery of rare illustrations. Also included are the additional modes originally released as DLC for Mega Man 9 and 10, featuring extra stages and playable characters. For anyone who wants a little extra help with these challenging classic platformers, you now have the option to reduce the amount of damage received.
Highlights
4-in-1 Timeless Adventures – Experience the legacy of long-time video game icon Mega Man with these four most recent classics from the core series:
Mega Man 7 – This 16-bit side-scrolling classic introduces an in-game shop with power-ups, plus a new and mysterious rival Bass and his wolf-like companion Treble.
Mega Man 8 – The Blue Bomber leaps into 32-bit in even more colorful stages with impressive fully animated and voiced story sequences for the first time.
Mega Man 9 – This entry marks a triumphant return to the series' roots with 8-bit visuals, music, and gameplay. Play as Proto Man and take on Fake Man in the included add-on content.
Mega Man 10 - Play as Mega Man, Proto Man, or Bass in this fun, challenging 8-bit quest. Battle the deadly Mega Man Killer robots in the three included add-on stages.
First-timer Friendly – For those jumping into the series for the first time, this collection introduces a new option to play the games with additional armor as players learn the ropes through their first time in these adventures. Save checkpoints have also been added for easy reload.
New Remix Challenge Mode – Play classic stages like never before and test your skills in unique boss rush and stage remixes with online leaderboards!
Mega Man Museum – Explore the legacy of these games' original releases with an historic archive that includes hundreds of development materials such as concept designs, sketches, production art, and more.
System Requirements
Minimum
OS:

Windows7 64bit / 8.1 64bit / 10 64bit

Storage:

6 GB

Processor:

Corei3-2130 (3.4GHz Dual-Core)

Memory:

2048 MB

Graphics:

GeForce GTX 550Ti (VRAM1GB)

DirectX:

11
Recommended
OS:

Windows7 64bit / 8.1 64bit / 10 64bit

Storage:

6 GB

Processor:

Core i5-4590(3.30GHz Quad-Core)

Memory:

4096 MB

Graphics:

GeForce GTX 570(VRAM2GB)

DirectX:

11