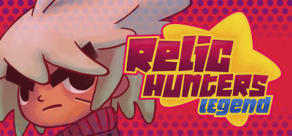 Relic Hunters Legend - Alpha Hunter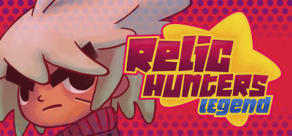 Relic Hunters Legend - Alpha Hunter
Pre-Order
About the game
Relic Hunters Legend is a twin-stick shooter with up-close view and online cooperative mode for up to 4 players, with an innovative mix of 2D and 3D art in their environments, and the return of the beloved characters from the previous Relic Hunters Zero game. With even more evil space turtles to fight, relics to find, a deep story, and the possibility to play with friends - Relic Hunters Legend promises a frenzied fun experience and many memorable moments, and comes next year to Steam for PC , Mac, & Linux, with console releases coming after that.
Fast, fun and free. A cooperative online game of Shooting / RPG. Collect up to 4 friends, conquer the best items, and save the Galaxy from a terrible villain who stole the past! Relic Hunters Legend is a cooperative Online Shooting / RPG game from the creators of Chroma Squad, Dungeonland and Relic Hunters Zero.
Game is currently under development. If you want to play early and support us, please help our Kickstarter on the 5th of October!!
The game will be Free in 2019 when you leave Early Access.
Highlights
Touching Tale of Friendship and Time Travel: Uncover the mysteries of the past, get to know your favorite characters better, and save the Galaxy together. Story will keep being expanded indefinitely with new storylines, characters and side stories being introduced with updates.
Deep RPG Systems: Collect hundreds of items, hunters and relics, and customize your perfect relic-hunting machine! Relic Hunters Legend is a full-blown RPG where you can customize each Hunter to fit your playstyle. We enjoy theorycrafting and lots of stats, and we won't dumb down our RPG systems.
Multiplayer Cooperative Gameplay: In Relic Hunters Legend we're introducing online cooperative play for up to four players! Play the campaign solo, or play with your friends in this exciting and fun-filled galactic journey!
Next-Generation of Top-Down Shooter Combat: Run and gun online with friends in full 3D environments with smart enemies, cool abilities and items. Play with either keyboard-and-mouse or a controller, and experience full verticality and freedom of movement. Easy or challenging activities for all tastes and moods - chill out by yourself or with friends, or put on your game face and tackle some serious challenges, whenever you feel like it.
Gorgeous Visuals: An innovative mix of 2D and 3D visuals powered by proprietary techniques brings our colorful crew to life in a way you have never seen before! Looks great and runs great even on very old hardware.
Play for Free, Forever: We understand your trepidation when you hear "free-to-play", and we want to make a great game without nickel-and-diming you. Our top priority is to always be honest, upfront and transparent in our communication regarding these matters. We assure you: everything can be earned by playing the game, and you will never be stuck behind a pay-wall; this we can guarantee.
Full "PC Master Race" Features: We've got 4K Resolution, unlocked framerates and 21:9 Support, as well as fully customizable controls and many options. A modern rig will easily get you to 144 FPS at 4K resolution for a crisp, clear and smooth gaming experience. We can't get enough of it!
Bonus content
Supporting the project today, players can play as early as possible, participate in development, gain a lot of cool stuff and help developers remain independent!!
Play as early as possible (Alpha Closed) on Steam;
Exclusive "Kickstarter Backer" badge to use in game, forums and Discord;
Access to Beta Testers exclusive Forums and Discord;
Original Soundtrack of the game;
Digital Deluxe version of the comics;
The equivalent of R $ 120 in game currency;
Access to the developers forum: talk directly to whoever plays the game!
Sign up in to official newsletter on our website to unlock the Mini-Soundtrack right now!
System Requirements
Minimum
OS:

Windows 7 +

Storage:

2 GB

Memory:

4 GB

Graphics:

Shader Model 2.0 / 512 MB

DirectX:

9.0c