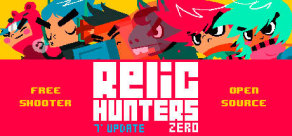 Relic Hunters Zero
About the game
Relic Hunters Zero is a FREE game about shooting evil space ducks and evil space turtles with tiny cute guns. It's fast, it's tactical, and feels delicious and smooth to play. Unlock new weapons, characters and relics to defeat the Ducan Commander.
The game's source code is also freely available, so you can find or create your own mods very easily!
This is 100% a labor of love from two developers. If you have a suggestion for the game, let them know - if they don't do it, maybe the community itself will!
Here we are: Our first major expansion for the game is done! 
We are very proud of how Endless turned out. It's a really solid experience that will serve as the base for all future content we and you together are going to make. 
If you like Relic Hunters, help us spread the word! We still have been largely ignored by major press and big-name Youtubers, but perhaps with the strength of half a million fans we can turn the tide!
Highlights
"Updated Forever" - open development lets anyone contribute to the game's future;
Six playable characters;
Local Co-Op for up to 2 players;
Play with mouse and keyboard + Full Xbox360 gamepad support;
Amazing lo-fi soundtrack by Goto80;
12-level "Adventure Mode" with unlockable items, characters and relics;
Challenging "Endless Mode" with unique mechanics and economy;
New features from the 7th update:
Endless Mode officially released; 
There are now edge tracking indicators when there are nearby enemies off-screen; 
The Ducan Elite have arrived to hunt you down from Loop 2 onwards; 
New Ducan crates are scattered around the levels from Loop 2 onwards; 
Challenges will spawn on every level from Loop 3 onwards; 
All new 17 Steam Achievements fully implemented; 
Zueira Digital now have their own logo animation :D