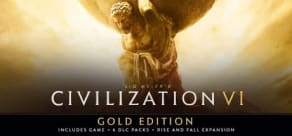 Sid Meier's Civilization® VI: Gold Edition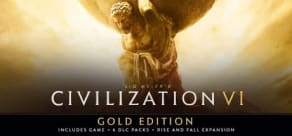 Sid Meier's Civilization® VI: Gold Edition
About the game
Originally created by legendary game designer Sid Meier, Civilization is a turn-based strategy game in which you attempt to build an empire to stand the test of time. Explore a new land, research technology, conquer your enemies, and go head-to-head with history's most renowned leaders as you attempt to build the greatest civilization the world has ever known.
Civilization VI offers new ways to engage with your world: cities now physically expand across the map, active research in technology and culture unlocks new potential, and competing leaders will pursue their own agendas based on their historical traits as you race for one of five ways to achieve victory in the game. 
Sid Meier's Civilization VI: Gold Edition is the perfect entry point for PC gamers who have yet to experience the addictive "one more turn" gameplay that has made Civilization one of the greatest game series of all time. The Gold Edition includes the Sid Meier's Civilization VI game, six DLC packs* and the Rise and Fall expansion.
Sid Meier's Civilization VI;
Civilization VI – Vikings Scenario Pack;
Civilization VI – Poland Civilization & Scenario Pack;
Civilization VI – Australia Civilization & Scenario Pack;
Civilization VI – Persia and Macedon Civilization & Scenario Pack;
Civilization VI – Nubia Civilization & Scenario Pack;
Civilization VI – Khmer and Indonesia Civilization & Scenario Pack;
Civilization VI: Rise and Fall expansion.
NOTE: Save vs buying DLC packs a la carte. Individual DLC may be sold separately. If you purchase the Gold Edition, do not also purchase these standalone packs, as you will be charged for them.
Highlights
THE WORLD'S GREATEST LEADERS: Play as one of 36 different leaders from various civilizations around the world and throughout history. Build an empire of lucrative trade routes with Cleopatra of Egypt, flex the military might of your legions with Trajan of Rome, or develop a powerhouse of culture with Hojo Tokimune of Japan. Each of the leaders can be played any way you prefer, with unique abilities, units, and infrastructure in their quest for victory.
EXPANSIVE EMPIRES: See the marvels of your empire spread across the map like never before. Each city spans multiple tiles so you can custom build your cities to take full advantage of the local terrain.
ACTIVE RESEARCH: Unlock boosts that speed your civilization's progress through history. To advance more quickly, use your units to actively explore, develop your environment, and discover new cultures. 
DYNAMIC DIPLOMACY: Interactions with other civilizations change over the course of the game, from primitive first interactions where conflict is a fact of life, to late game alliances and negotiations. 
GREAT AGES: As your civilization ebbs and flows, and you reach milestone Historic Moments, you will move towards Dark Ages or Golden Ages, each providing specific challenges or bonuses based on your actions in game. Rise triumphantly from a Dark Age, and your next Golden Age will be even stronger – a Heroic Age.
LOYALTY: Cities now have individual Loyalty to your leadership – let it fall too low, and face the consequences of low yields, revolts, and the potential to lose your city if it declares its own independence. But one civilization's loss can be your gain as you inspire Loyalty among cities throughout the map and further expand your borders. 
GOVERNORS: Recruit, appoint, and upgrade powerful characters with unique specialization bonuses and promotion trees to customize your cities, and reinforce Loyalty.
COMBINED ARMS: Expanding on the "one unit per tile" design, support units can now be embedded with other units, like anti-tank support with infantry, or a warrior with settlers. Similar units can also be combined to form powerful "Corps" units.
EMERGENCIES: When a civilization grows too powerful, other civilizations can join a pact against the threatening civilization, and earn rewards, or penalties, when the Emergency ends.
TIMELINE: Review your civilization's history at any time with the new Timeline feature, a visual journey through the Historic Moments that you encountered on your path to victory. 
ENHANCED MULTIPLAYER: In addition to traditional multiplayer modes, cooperate and compete with your friends in a wide variety of situations all designed to be easily completed in a single session. 
System Requirements
Minimum
OS:

Windows 7x64 / Windows 8.1x64 / Windows 10x64

Storage:

13 GB available space

Processor:

Intel Core i3 2.5 Ghz or AMD Phenom II 2.6 Ghz or greater

Memory:

4 GB RAM

Graphics:

1 GB DirectX 11 Video Card (AMD 5570, nVidia 450 or Intel Integrated Graphics 530)

DirectX:

Version 11
Recommended
OS:

Windows 7x64 / Windows 8.1x64 / Windows 10x64

Storage:

13 GB available space

Processor:

Fourth Generation Intel Core i5 2.5 Ghz or AMD FX8350 4.0 Ghz or greater

Memory:

8 GB RAM

Graphics:

2GB & AMD 7970 or nVidia 770 or greater

DirectX:

Version 11