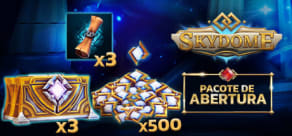 DLC
Skydome - Pacote de Abertura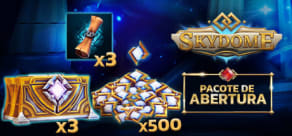 DLC
Skydome - Pacote de Abertura
About the game
Skydome - Pacote de Abertura includes:
500 Diamonds - Your choice: Get Premium for the Battle Pass or hit the Shop!
3x Golden Chests - Only RARE, EPIC and LEGENDARY drops!
3x 100% Experience Boost - Double the experience during 24 hours!
THE DLC:
Want to accelerate your start in Skydome? You are in the right place!
The Skydome - Pacote de Abertura gives you everything you need to start your journey at high speed! And better yet, all in a heavily discounted price to celebrate Skydome's launch in Early Access!
In this pack you get more than enough Diamonds to get Premium on our first Battle Pass, with the change you can also visit our Shop! Your money, your choice! Using the Experience Boosts included, you'll fly through the ranks of the Battle Pass with 100% additional experience! In addition, this pack includes Golden Chests, which rewards only RARE, EPIC and LEGENDARY drops!
System Requirements
Minimum
OS:

Windows 7/8/10 64-bit

Storage:

4 GB

Processor:

Intel 2.4 GHz Dual Core

Memory:

4 GB

Graphics:

GeForce GTX 650 +

Soundcard:

Onboard

DirectX:

10