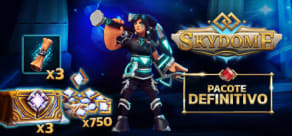 DLC
Skydome - Pacote Definitivo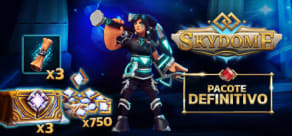 DLC
Skydome - Pacote Definitivo
About the game
Skydome - Pacote Definitivo includes:
Golden Text on Chat!;
750 Diamonds - Your choice: Get Premium for the Battle Pass or hit the Shop!;
Developer Sula Champion Skin;
3x Golden Chests - Only RARE, EPIC and LEGENDARY drops!;
3x 100% Experience Boost - Double the experience during 24 hours!;
Animated Skydome Icon;
Animated Skydome Banner.
THE DLC:
Made specially for the great fans of Skydome - it's called Ultimate Fan Pack for a reason!
It offers so much value for a really low price! This package is exclusive for the celebration of Skydome's launch into Early Access!
Besides a large amount of Diamonds, here we can find the wonderful Golden Chests that rewards only Rare, Epic and Legendary itens. There's Experience Boosts that grant a 100% more exp! There's the beautiful Developer Skin for Sula! There's an Animated Icon and Banner! Besides all those exclusive items, we have the rarer of them all: The owners of this pack will be able to write with GOLDEN TEXT on Skydome's chats!
System Requirements
Minimum
OS:

Windows 7/8/10 64-bit

Storage:

4 GB

Processor:

Intel 2.4 GHz Dual Core

Memory:

4 GB

Graphics:

GeForce GTX 650 +

Soundcard:

Onboard

DirectX:

10