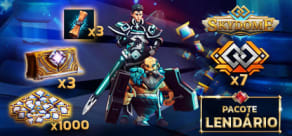 DLC
Skydome - Pacote Lendário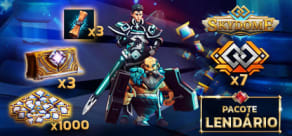 DLC
Skydome - Pacote Lendário
About the game
Skydome - Pacote Lendário includes:
Premium access on the first Battle Pass;
Premium access on ALL six Battle Passes of 2021;
1000 Diamonds - Time to hit the Shop!;
Developer Krub Champion Skin;
Developer Egon Champion Skin;
3x Golden Chests - Only RARE, EPIC and LEGENDARY drops!;
3x 100% Experience Boost - Double the experience during 24 hours!;
Animated Diamond Skydome Icon;
Animated Diamond Skydome Banner.
THE DLC:
In celebration of Skydome's launch in Early Access, we have a memorable, unforgettable pack!
It's LEGEN... wait for it, DARY! So much stuff for the smallest of prices! This pack has Premium access to Skydome's first Battle Pass and ALL the upcoming 2021 Battle Passes! You read it right, that's SEVEN Battle Passes! We also have an gigantic amount of Diamonds, Two Developer Skins, one for Krub and one for Egon. Golden Chests, Experience Boosts and an animated Icon and Banner!
System Requirements
Minimum
OS:

Windows 7/8/10 64-bit

Storage:

4 GB

Processor:

Intel 2.4 GHz Dual Core

Memory:

4 GB

Graphics:

GeForce GTX 650 +

Soundcard:

Onboard

DirectX:

10