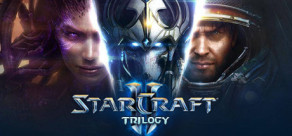 Starcraft 2: Trilogy
About the game
Command the Complete Trilogy! With millions of players already in the fight, StarCraft II has made gaming history. Now it's your turn to take command and lead vast armies of terran, protoss and zerg to victory amongst the stars. Prepare for interstellar war, commander. You're needed at the front.
Highlights
Three Vast Campains of War: Play through three sweeping single-player campaigns with a combined total of over 70 missions from Wings of Liberty®, Heart of the Swarm® and Legacy of the Void®.
Seven Co-Op Commanders: Group up online with other players in Co-Op Commander Mode and play as Raynor, Kerrigan, Artanis, Swann, Zagara, Vorazun or Karax.
Weekly Mutators: Play a new Co-Op scenario every week as your Commanders gain experience and adapt to an ever-shifting battlefield.
All Multiplayer Units: Command all multiplayer units and begin your ascent of a vast competitive ladder with leagues for every level of play.
All Multiplayer Maps & Modes: Challenge your foes in any game mode, including ranked, unranked, tournament and custom—all across a steady rotation of battlegrounds.
Bonus Hero: As an added bonus, this Battle Chest also unlocks Artanis in Heroes of the Storm®, a free-to-play game also available from Blizzard Entertainment.
Bonus content
Starcraft 2: Trilogy includes:
StarCraft II: Wings of Liberty
StarCraft II: Heart of the Swarm 
StarCraft II: Legacy of the Void
System Requirements
Minimum
OS:

Windows® XP/Windows Vista®

Storage:

30 GB

Processor:

Intel® Core™ 2 Duo / AMD Athlon™ 64 X2 5600+

Memory:

2 GB

Graphics:

NVIDIA® GeForce® GT 7600 / ATI™ Radeon™ HD 2600 XT / Intel® HD Graphics 3000
Recommended
OS:

Windows® 7 / Windows® 8 / Windows® 10 (64 bits)

Storage:

30 GB

Processor:

Intel® Core™ i5 / AMD FX

Memory:

4 GB

Graphics:

NVIDIA® GeForce® GTX 650 / AMD Radeon™ HD 7790
Minimum
OS:

Mac® OS X 10.9.5

Storage:

30 GB

Processor:

Intel® Core™ 2 Duo

Memory:

4 GB

Graphics:

NVIDIA® GeForce® GT 330M / ATI™ Radeon™ HD 4670
Recommended
OS:

Mac OS® X 10.11

Storage:

30 GB

Processor:

Intel® Core™ i5

Memory:

8 GB

Graphics:

NVIDIA® GeForce® GTX 780M / AMD Radeon™ HD 6970