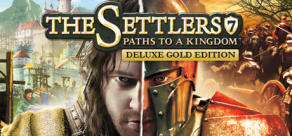 The Settlers 7 Deluxe Gold Edition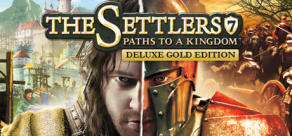 The Settlers 7 Deluxe Gold Edition
About the game
New worlds are waiting for you in the new Settlers! In The Settlers: Paths to a Kingdom, economic, military, and research systems are richer than ever.
Play and win any way you want! In addition to the game campaign, have access to customizable maps, downloadable expansions and content generated by other players, ensuring a much more comprehensive experience. Every decision will pave the way to victory or defeat!
The Settlers 7: Paths to a Kingdom is a real-time strategy game that puts players in the middle of a power struggle in the fictional kingdom of Tandria in medieval Europe. The title aims to take back the roots of the franchise and gained many innovations, thanks to the developer's adviser, Bruce Shelley (creator of Age of Empires and Civilization). A remarkable system of victory emerges in The Settlers 7. The player can choose to focus on military strength, economic power or technological know-how to win. You must make certain achievements to gain victory points, and when you reach the limit in any of the areas of power (military, technological and economic) all players are advised that you are about to win the match.
Highlights
Os sistemas militares e econômicos mais profundos já vistos na história de Settlers.
Um sistema de estratégia que se adapta às suas preferências.
Crie seu próprio castelo com o estilo que você quiser.
Bonus content
Deluxe Gold Edition Includes:
13 exclusive maps: 6 multiplayer maps and 7 single player campaigns.
A dozen new buildings. Including the Crypt, Order of Knights, Infernal mine.
Over 30 new locations. Including Field of Mandrake, Treasure Island, Pilgrimage site
Castle forge elements allowing players to make their cities unique and customize their castles: 1 gate, 2 windows, 1 bay, 1 balcony and 1 gargoyle.
System Requirements
Minimum
OS:

Windows XP +

Storage:

8 GB

Processor:

2 GHz Intel Pentium 4 / AMD XP 2600+ or better (Intel Core 2 Duo / AMD Athlon 64 X2 +

Memory:

2 GB [4 GB]

Graphics:

256 MB DirectX 9.0, Shader 3.0 [512 MB r]

DirectX:

9.0c
Recommended
Processor:

Pentium IV 3 GHz / Athlon + [3 GHz]

Memory:

1 GB

Graphics:

256 MB

DirectX:

9.0