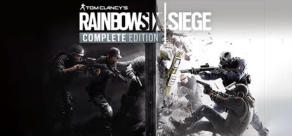 Tom Clancy's Rainbow Six - SIEGE: Complete Edition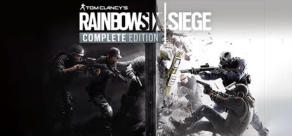 Tom Clancy's Rainbow Six - SIEGE: Complete Edition
About the game
Rainbow Six Siege  invites players to master the art of destruction. Intense confrontations over short distance, high lethality, tactics, teamwork, and tension are the core of this experience. The time has come to intensify your confrontations! With Tom Clancy's Rainbow Six - SIEGE: Complete Edition Year 3 , with includes Standard Edition and Year 3 Pass, You'll receive exclusive content to lift the game to its fullest.
Highlights
Close Quarter Combat: Engage in a brand-new style of assault using an unrivaled level of destruction and gadgetry. On defense, coordinate with your team to transform your environments into strongholds. Trap, fortify and create defensive systems to prevent being breached by the enemy. On attack, lead your team through narrow corridors, barricaded doorways and reinforced walls. Combine tactical maps, observation drones, rappelling and more to plan, attack and defuse every situation.
Tools of Destruction: Choose from dozens of highly trained, Special Forces operators from around the world. Deploy the latest technology to track enemy movement. Shatter walls to open new lines of fire. Breach ceilings and floors to create new access points. Employ every weapon and gadget from your deadly arsenal to locate, manipulate and destroy your enemies and the environment around them.
Always Evolving: Experience new strategies and tactics as Rainbow Six Siege evolves over time. Change the rules of Siege with every update that includes new operators, weapons, gadgets and maps. Evolve alongside the ever-changing landscape with your friends and become the most experienced and dangerous operators out there.
Highly Competitive: Compete against others from around the world in ranked match play. Grab your best squad and join the competitive community in weekly tournaments or watch the best professional teams battle it out in the Rainbow Six Siege Pro League.
Bonus content
Get the ultimate Tom Clancy's Rainbow Six® Siege experience with the Complete Edition!
Features $30 worth of bonus content including 600 Rainbow Six Credits and 10 Outbreak Collection Packs (Available in-game March 6, 2018, subject to change) to unlock premium in-game content and customize your Operators.
Instant access to 16 post-launch Operators from Year 1 and Year 2.
Year 3 Pass content: 8 new Operators across 4 seasons, 8 exclusive headgear and uniforms, and Rainbow Six charm.
Year 3 Pass early access and discounts: 7-day early access (VIP Membership ends January 31, 2019) to each season's new Operators, 10% shop discount, 5% Renown boost (The 10% discount applies only to purchases made with Renown or Rainbow Six Credits), Alpha Pack Boost (+0.3%), and bonus 600 Rainbow Six Credits.
Master the art of destruction and gadgetry with highly specialized international Operators
Get the Damascus Steel signature weapon skin when you purchase and redeem before March 5, 2018. Year 2 Pass holders who purchase will receive a bonus of 600 Rainbow Six Credits for 1200 total.
System Requirements
Minimum
OS:

Windows 7, 8.1 / 10 (64bit)

Storage:

30 GB

Processor:

Intel Core i3 560 [3.3GHz]

Memory:

6 GB

Graphics:

GeForce GTX 460 / Radeon HD 5870 [1GB]

DirectX:

10
Recommended
OS:

Windows 7 +

Storage:

47 GB

Processor:

Intel Core i5-2500K / 3.3GHz

Memory:

8 GB

Graphics:

nVidia GeForce GTX 670 +

DirectX:

11