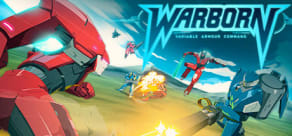 Warborn
About the game
Rise up and deploy for battle in the Variable Armour, a technologically advanced suit of war. As the political climate between factions is thrown out of balance and the solar system is engulfed in conflict, lead your strike force of deadly mecha towards victory in turn-based tactical combat.
Choose from four commanders, each representing a different faction and bringing with them their own unique power, traits and play style. Think tactically as you move your units, clash with rival mecha, and watch the outcome in dramatic battle sequences inspired by 90s Japanese animation.
Call in reinforcements from orbit by picking from a range of mass-produced units with differing combat roles. Assemble a force to lead into battle and strike fear into the enemy with imposing second-generation Variable Armours, piloted exclusively by your commander.
Push forward and secure your supremacy on a battlefield of hexagonal area tiles. Use a variety of terrain types to take cover or undermine the enemy, and capture structures to gain additional resources or deployment sites.
Inflict status effects, plant traps, support allies. Each type of Variable Armour is armed with its own specialist equipment and unique skills, allowing you to engage the enemy with a variety of tactical options.
CAMPAIGN
WARBORN takes place in the Auros System, during a time of war and political uncertainty. While inter-faction disputes erupt, see the war unfold from the eyes of four different commanders across a story-driven campaign featuring over 40 missions.
SKIRMISH & MULTIPLAYER
Configure your own match parameters and develop new tactics by competing against AI in Skirmish mode, or take the battle online to outwit rival commanders across the world in tense one-on-one matches.
MAP EDITOR
Feeling creative? Make your own custom maps using the built-in Map Editor. Take your custom maps into Skirmish mode to try against the computer, or play them online with friends.
Highlights
Levante-se: Levante-se e desdobre para a batalha na Armadura Variável, um traje de guerra tecnologicamente avançado. Enquanto o clima político entre as facções é desequilibrado e o sistema solar é engolido em conflito, conduza sua força de ataque de mecha mortal em direção à vitória em um combate tático baseado em turnos.
Comande: Escolha entre quatro comandantes, cada um representando uma facção diferente e trazendo com eles seu próprio poder, características e estilo de jogo único. Pense taticamente ao mover suas unidades, entre em conflito com mecha rival, e assista ao resultado em dramáticas sequências de batalha inspiradas na animação japonesa dos anos 90.
Implante: Chame reforços a partir da órbita, escolhendo de uma série de unidades produzidas em massa com diferentes papéis de combate. Monte uma força para liderar a batalha e atacar o medo no inimigo com imponentes Armaduras Variáveis de segunda geração, pilotadas exclusivamente pelo seu comandante.
Avance: Avance e assegure sua supremacia em um campo de batalha de azulejos de área hexagonal. Use uma variedade de tipos de terreno para se abrigar ou minar o inimigo e capturar estruturas para ganhar recursos adicionais ou locais de desdobramento.
Batalha: Efeitos de status de conflito, armadilhas para plantas, aliados de apoio. Cada tipo de Armadura Variável é armado com seus próprios equipamentos especializados e habilidades únicas, permitindo que você enfrente o inimigo com uma variedade de opções táticas.
Modos de Jogo
CAMPANHA: WARBORN ocorre no Sistema Auros, em tempo de guerra e incerteza política. Enquanto as disputas entre facções irrompem, veja a guerra se desenrolar dos olhos de quatro comandantes diferentes ao longo de uma campanha orientada pela história, com mais de 40 missões.
SKIRMISH & MULTIPLAYER: Configure seus próprios parâmetros de partida e desenvolva novas táticas competindo contra IA no modo Skirmish, ou leve a batalha online para vencer os comandantes rivais do mundo inteiro em partidas tensas um contra um.
EDITOR DO MAPA: Sente-se criativo? Faça seus próprios mapas personalizados usando o Editor de Mapas embutido. Leve seus mapas personalizados para o modo Skirmish para tentar contra o computador, ou jogue-os online com seus amigos.