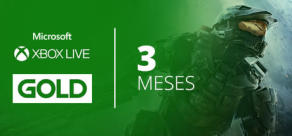 Xbox Live Gold - 3 Meses
About the game
Live the experience of playing in the best community! With Xbox Live Gold, you're in for incredible multiplayer matches in co-op mode. Make friends, unlock achievements and raise your fun to the highest level!
With multiplayer you can do it all!
The most advanced multiplayer: More than 300,000 servers are waiting for you. Connect with your friends and enjoy cloud storage to eliminate lag and cheating.
Your Match Perfect: On Xbox One, Smart Match * finds the perfect challenges for your skills and style, through algorithms that bring the right players to you.
Never lose a moment: Play, watch TV or listen to music while we find your match.
All the advantages of being Gold:
Win games with Xbox Live Gold: The games you've always wanted in an immense library with free titles for Xbox One and Xbox 360.
Exclusive member discounts: Gold offers 50-75% off Xbox Store games.
Free Games Every Month Members: Gold are entitled to free games **, monthly promotions and other incredible benefits. Check out now and see the games and discounts available.
Multiplayer for Everyone: With the Home Gold subscription on Xbox One, everyone in your home saw multiplayer and got access to their free Games With Gold games.
Share your journey:
Transmit your most epic duels via Twitch in the multiplayer arena: Xbox Live Gold takes you to the multiplayer arena, allowing you to stream your most epic duels via Twitch. Prove to the world that you are the best.
Show your best multiplayer moments: Save your stories in the cloud and use Upload Studio to turn the best moments into personalized movies to share with friends.
Highlights
Exclusive list of games including Xbox 360 Classic(¹*): Enjoy the best line-up of Xbox One-compatible games.
The most advanced multiplayer network(²*): Join the best gaming community in the world(³*) and guarantee free games every month.
Advanced technology with constant improvements(4*): richer and brighter colors, and the freedom of Xbox Play Anywhere at no extra cost.
Games and entertainment for everyone in 4k(5*): Quickly switch between Blue-ray ™ movies, Netflix, apps and your favorite games.