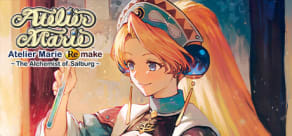 Atelier Marie Remake: The Alchemist of Salburg - Deluxe Edition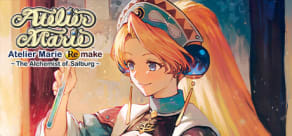 Atelier Marie Remake: The Alchemist of Salburg - Deluxe Edition
About the game
Atelier Marie Remake: The Alchemist of Salburg - Deluxe Edition includes:
The main game "Atelier Marie Remake: The Alchemist of Salburg"
Includes complete original game "Atelier Marie Plus: The Alchemist of Salburg"!
Gust Extra BGM Pack
"Another Look" Costume Set (set of 33)
THE GAME:
At the Royal Academy of Magic (or just Academy), Marie is struggling with studying alchemy. One day, a teacher offers him a workshop. It forms part of a special final exam. In order to graduate, Marie must feel something that impresses the professor.
But first, Marie has to work on improving her alchemy, replenishing ingredients and earning money to hire adventurers and buy recipes and tools... Not to mention the synthesis, battles and quests she'll have to deal with. It's obvious that you have a lot to do before you're ready for the exam!
You choose where to start! Strive to graduate from the Academy, but don't forget to enjoy the journey.
Highlights
Improved graphics! Marie and her friends are given new life thanks to the latest technology! - We've improved character design and event illustration, and also introduced 2D animations. In addition, we now have 3D models of characters and backgrounds. So players can enjoy the cuteness of miniature characters while exploring the map.
The first game in the Atelier series, adapted to the present day with gameplay improvements! - We tried to maintain the simplicity and flexibility of the original version, but expanded and improved the tutorial and access to the game's features. We've also changed the way you move around town and pick up items, to meet current expectations and ensure that this remake is even smoother and easier to play.
We added new elements to improve the experience! - For Greeks and Trojans: whether you're a fan of the original version or trying out the Atelier series for the first time, you'll be dazzled by the variety of elements we've added. Make the most of the world of "Atelier Marie": play without worries in the new Unlimited Mode and enjoy the new events that allow you to interact with new characters.
System Requirements
Minimum
OS:

Windows® 10/ Windows® 11 64bit

Storage:

25 GB

Processor:

Intel Core i5 4670 or over/ AMD Ryzen 3 1200 or over

Memory:

8 GB

Graphics:

NVIDIA GeForce GT 1030 or over/ AMD Radeon RX550 or over/1280x720

Soundcard:

16 bit stereo/ 48kHz WAVE file can be played

DirectX:

11

Network:

broadband internet connection
Recommended
OS:

Windows® 10/ Windows® 11 64bit

Storage:

25 GB

Processor:

Intel Core i7 6700 or over/ AMD Ryzen 5 1500X or over

Memory:

16 GB

Graphics:

NVIDIA GeForce GTX 1070 or over, AMD Radeon RX 580 or over, 1920x1080

Soundcard:

16 bit stereo/ 48kHz WAVE file can be played

DirectX:

11

Network:

broadband internet connection