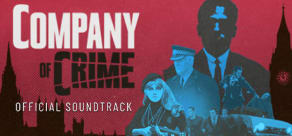 Company of Crime: Official Soundtrack
Available Countries
Antigua & Barbuda
Argentina
Bahamas
Barbados
Belize
Bermuda
Bolivia
Brazil
Chile
Colombia
Costa Rica
Cuba
Dominica
Dominican Republic
Ecuador
El Salvador
Falkland Islands
French Guiana
Grenada
Guatemala
Guyana
Haiti
Honduras
Jamaica
Mexico
Nicaragua
Panama
Paraguay
Peru
Puerto Rico
South Georgia & South Sandwich Islands
St. Kitts & Nevis
St. Lucia
St. Vincent & Grenadines
Suriname
Uruguay
Venezuela
About the game
This is the official soundtrack of Company of Crime. All songs were written by Seppo Kantonen.
The music of Company of Crime is highly inspired by the soul/jazz/rock movement that emerged in the UK during the '60s. American bands toured in Europe by the time and influenced music fans especially in England with their raw and vivid sound. Local bands were formed and the sound shifted to its own unique style, which affected different youth cultures such as mods, etc.
In the early days, the style of music was mostly liked by other than mainstream racial groups and working-class youth. That's why in the opinion of the establishment, the music was considered to be the choice of outcasts, rascals, loafers, and criminals. Like most of the countercultures this movement also became hip and mainstream over time.
The music of Company of Crime is also inspired by the sounds heard in the 60's English crime movies such as Get Carter and early seventies movies from the US like Dirty Harry. We find the mixture of these two elements, recorded music and movie soundtracks to be spot on for the game.
We wanted the music to sound raw and performed by youngsters that are extremely excited about the new sound. The aim was to find a sound that replicates the enthusiasm for the music and was not bothered by the lack of competence or technical shortage to perform or record. We hope you find this soundtrack as superb as we do!