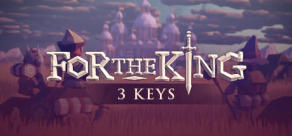 For The King Triple Keys
Available Countries
Argentina
Bahamas
Belize
Bolivia
Brazil
Chile
Colombia
Costa Rica
Dominican Republic
Ecuador
El Salvador
Guatemala
Guyana
Honduras
Jamaica
Mexico
Nicaragua
Panama
Paraguay
Peru
Puerto Rico
Suriname
Trinidad & Tobago
Uruguay
Venezuela
About the game
With this special edition of For The King Triple Keys you get 3 keys for the standard version of the game.
The King is dead, murdered by an unknown assailant. Now the once peaceful kingdom of Fahrul is in chaos.
With nowhere left to turn and stretched beyond her means, the queen has put out a desperate plea to the citizens of the land to rise up and help stem the tide of impending doom. Set off with your make-shift party, either single player, local, or online co-op. Choose to split your party up and cover more ground, or stick together for protection. A sound strategy can mean the difference between life and death.
For The King is a challenging blend of Strategy, JRPG Combat, and Roguelike elements. Each play through is made unique with procedural maps, quests, and events. Brave the relentless elements, fight the wicked creatures, sail the seas and delve into the dark underworld. None before you have returned from their journey. Will you be the one to put an end to the Chaos?
Fight and die as a party in fast paced and brutal turn-based combat using a unique slot system for attacks and special abilities. Find and gather herbs for your trusty pipe to heal your wounds and cure your maladies. Set up safe camps or brave the horrors that nightfall brings.
Just remember adventurer, you do this not for the riches or fame but for your village, for your realm, For The King!
System Requirements
Minimum
OS:

64-bit Windows 7 / Windows 8.1 / Windows 10

Storage:

2 GB

Processor:

1.4 GHZ dual core CPU

Memory:

4 GB

Graphics:

GeForce 8800 / Radeon 3850 / Intel HD 3000 [256 MB]

DirectX:

9.0c
Recommended
OS:

Windows 10

Storage:

2 GB

Processor:

2 GHZ quad core CPU

Memory:

8 GB

Graphics:

[1GB VRAM]
Minimum
OS:

Mac OS X

Storage:

2 GB

Processor:

1.4 GHZ dual core CPU

Memory:

4 GB

Graphics:

512 MB VRAM
Recommended
OS:

Mac OS X

Storage:

2 GB

Processor:

2 GHZ quad core CPU

Memory:

8 GB

Graphics:

[1GB VRAM]