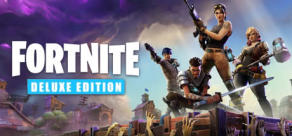 Fortnite - Deluxe Edition
About the game
With a combination of FPS modes with Construction; In Fortnite - Deluxe Edition your main goal is to defend the "black core" of the creatures of the storm trying to destroy everything ahead!
During the game you immerse yourself in an addictive variety of skills, strategic combinations and missions to fulfill! The game also allows you to exchange items with friends or co-op partners.
The rule is simple: the last survivor wins.
Highlights
With Fortnite - Deluxe Edition you get:
FORTNITE - BATTLE ROYALE;
SINGLE-PLAYER MODE ENABLED;
RARE INITIAL PACK OF WEAPONS: Whether you're a fan of tearing carcasses away or prefer to settle things with your bare hands, this package has all the weapons plans you need to succeed.
EXCLUSIVE FOUNDER'S PISTOL: For the exclusive benefit of Founder, you will receive the honor of carrying the Revolt Gun. It features dynamic shooting, has a large comb and features laser-beam precision.
INITIAL HERO PACKAGE: Start with eight powerful Heroes, two from each class, to show the Carcasses that you are not kidding.
33 PINHATA PACKAGES: you receive 24 Pachas Packages from the Daily Treasure, 4 Pachot Exclusive Packets from the Founder's Treasure and 5 Pachas Treasure Packs.
50 EXTRA SPACES IN THE COFFEE: Between missions, you need to save all your items and plans somewhere, deluxe edition guarantees extra inventory spaces to help you accumulate items faster.
10 GAME STANDARD ICONS: Personalize your account with 10 unique banners to display on your profile.
10 XP UPS FOR YOU: Build an arsenal of powerful Heroes faster with these EXP fortifications.
10 XP UPS TO SHARE: Show your friends how much you like them with these EXP Strengths for Gift.
System Requirements
Minimum
OS:

Windows 7/ 8 / 10 [64-bit]

Storage:

4 GB

Memory:

2 GB

Graphics:

GPU DX11/ Nvidia GTX 660 / AMD Radeon HD 7870
Recommended
OS:

Windows 7/ 8 / 10 [64-bit]

Storage:

8 GB

Processor:

Core i3 2.4 Ghz

Memory:

2 GB

Graphics:

Intel HD 4000
Minimum
OS:

Mac OSX Sierra (10.12.6+)

Storage:

4 GB

Processor:

Core i5 2.8 Ghz

Memory:

2 GB

Graphics:

GPU DX11/ Nvidia GTX 660 / AMD Radeon HD 7870