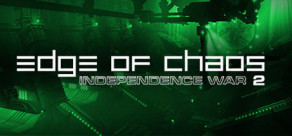 Independence War 2: Edge of Chaos
Available Countries
Antigua & Barbuda
Argentina
Bahamas
Barbados
Belize
Bermuda
Bolivia
Brazil
Chile
Colombia
Costa Rica
Cuba
Dominica
Dominican Republic
Ecuador
El Salvador
Falkland Islands
French Guiana
Grenada
Guatemala
Guyana
Haiti
Honduras
Jamaica
Mexico
Nicaragua
Panama
Paraguay
Peru
Puerto Rico
South Georgia & South Sandwich Islands
St. Kitts & Nevis
St. Lucia
St. Vincent & Grenadines
Suriname
Trinidad & Tobago
Uruguay
Venezuela
About the game
The Badlands cluster. 100 years after the first Independence War. Your father was killed by the Corporations for a bad debt. And you've spent 15 years rotting in jail for trying to get justice. Now it's time for vengeance. Now it's time to turn back the Corporations before they corrupt the entire universe. Now it's time to take control of the universe's most advanced interstellar hardware and wage war in the greatest space-sim ever conceived. Command four futuristic battlecruisers and a band of revolutionary pirates into an all-consuming battle against impossible odds...because there just isn't enough Space for everyone!
Highlights
Innovative user-friendly interface - 90% of functions can be programmed where you like - on the joystick or on the keyboard or both!
Online multiplayer support for up to 8 people. Play DeathMatch, Capture the Flag, and various other unique scenarios.
The revolutionary Flux™ Graphics Engine: Microsoft Direct3D® compatible - surface effects like rust, decay and wear on the ships, and stunning fire and flare effects. All ships in the game are modeled using the textures and details from the ships created for the CGI movies.
Physically realistic flight model. All ships use a Newtonian mechanics simulation and move according to the same rules as real spacecraft. This includes a simulation of both linear and angular momentum, inertia and rotational moment of inertia. Ships can use either a free-flight mode or use computer-assisted fly-by-wire flight controls.
Team-up on the enemy with detachable fighters. Keep them on-board as murderous gun turrets or order them to attack as wingmen.
Superior non-linear gameplay spanning 16 star systems, interacting with dynamically-created space traffic.
Command 4 flyable ships and over 30 weapons and ship accessories that can be used in near-infinite combinations.
Get to know the locals. Examples include taxicab ships, freighters, space patrols, and pirates.
Watch the space opera unfold through a rich storyline in four acts.
System Requirements
Minimum
OS:

Windows XP / Windows Vista

Storage:

2 GB

Processor:

1.8 Ghz Processor

Memory:

512 MB RAM

Graphics:

3D graphics card

DirectX:

8.0