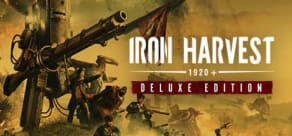 Iron Harvest - Deluxe Edition
Available Countries
Argentina
Bolivia
Brazil
Chile
Colombia
Costa Rica
Cuba
Dominican Republic
Ecuador
El Salvador
Guatemala
Haiti
Honduras
Mexico
Nicaragua
Panama
Paraguay
Peru
Puerto Rico
St. Barthélemy
St. Martin
Uruguay
Venezuela
About the game
Iron Harvest - Deluxe Edition includes:
The base game Iron Harvest;
Mini Campaign and a big Add-on, granting access to all new adventures in the alternative reality of 1920+.
Exact contents still to be determined, but expect hours of real time strategy and story-driven action of the highest quality!
THE GAME:
Iron Harvest is a real-time strategy game (RTS) set in the alternate reality of 1920+, just after the end of the Great War. The Game lets you control giant dieselpunk mechs, combining epic singleplayer and coop campaigns as well as skirmishes with intense action on the battlefield for multiplayer fans, Iron Harvest is the classic real-time strategy games fans have been waiting for.
Tradition clashes with scientific and technological progress, while Europe is still recovering from the brutal battles of the World War. Cities are being rebuilt and in the countryside, the era of the Iron Harvest has begun. Farmers are uncovering the remains of the majestic walking machines that had fought on the battlefields of the Great War.
In the midst of this chaos, a new threat appears that will put Europe's very existence at risk. Secret forces are putting everything they can towards destabilization of entire countries, determined to set the world on fire once again and finally seize control.
Highlights
Classic real-time strategy at its finest: lead dozens of different unit types into battle, carefully utilize cover and blast entire buildings to shreds. Take your time to come up with a plan which allows for a wide range of tactics, including a stealth approach. Mechs. We got mechs. Lots of them.
Strong single player campaigns & Engaging Story: Experience an epic overarching story, spanning more than 20 missions over three campaigns. Join nine charismatic heroes and their beastly companions in their adventures across Europe. Team-up with a friend and master all campaigns side-by-side in co-op.
You are the one in full control: Command three diverse factions with over 40 unit types and 9 heroes with unique abilities. Setup skirmish and multiplayer matches any way you want. Configure your personal game interface and choose your favourite input controls.
Intense coopo & competitive multiplayer combat: Competitive multiplayer with ladders, ranked matches & leagues. Choose from a vast selection of skirmish maps and challenge maps, available to play in singleplayer and coop. In addition expect regular free updates during the season, including new singleplayer challenges, multiplayer maps and more to look forward to.
Buid and fortify your base: Conquer resource points, build your base and place fortifications to protect your unit production and research.
System Requirements
Minimum
OS:

Windows 10 x64

Storage:

30 GB

Processor:

Intel(R) Core(TM) i5-4460 or AMD equivalent

Memory:

8 GB de RAM

Graphics:

GeForce GTX 960 or AMD equivalent, 4 GB VRAM

DirectX:

11
Recommended
OS:

Windows 10 x64

Storage:

30 GB

Processor:

Intel(R) Core(TM) i7 8700k or AMD equivalent

Memory:

16 GB

Graphics:

GeForce RTX 2060 or AMD equivalent, 4 GB VRAM

DirectX:

11