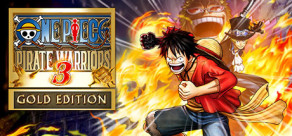 One Piece Pirate Warriors 3 - Gold Edition
Available Countries
Antigua & Barbuda
Argentina
Bahamas
Barbados
Belize
Bermuda
Bolivia
Brazil
Chile
Colombia
Costa Rica
Cuba
Dominica
Dominican Republic
Ecuador
El Salvador
Falkland Islands
French Guiana
Grenada
Guatemala
Guyana
Haiti
Honduras
Jamaica
Mexico
Nicaragua
Panama
Paraguay
Peru
Puerto Rico
South Georgia & South Sandwich Islands
St. Kitts & Nevis
St. Lucia
St. Vincent & Grenadines
Suriname
Uruguay
About the game
More action, more characters, stronger enemies and improved gameplay in the latest collaboration between TOEI ANIMATION, KOEI TECMO GAMES and BANDAI NAMCO Entertainment!
Discover the original story of ONE PIECE from Fuschia Village, where it all began, to the kingdom of Dressrosa, a mysterious island dominated by the evil Donquixote Doflamingo. Will you be strong enough to defeat enemies as dangerous as Doflamingo, Hody Jones, Ceasar Clown and many others? Bring all Straw Hat Crew members together, as in the original storyline, navigate to iconic locations and take part in the most epic battles: Marineford, Fish-Man Island, Punk Hazard and Dressrosa!
Highlights
One Piece: Pirate Warriors 3 apresenta várias funcionalidades novas e melhoradas, incluindo:
Gráficos e animação de maior qualidade: o universo One Piece nunca foi recriado de forma tão fiel.
Maior número de personagens populares: Sabo, Doflamingo, Fujitora e muitos mais!
Jogabilidade melhorada e incríveis ações cooperativas inéditas.
Mais ação que nunca no mais recente capítulo da série PIRATE WARRIORS
Bonus content
Viva novamente a viagem de Luffy com o One Piece: Pirate Warriors 3 GOLD EDITION!

One Piece: Pirate Warriors 3 Gold Edition inclui:
One Piece Pirate Warriros 3
One Piece Pirate Warriros 3 - Story Pack
O Story Pack garante acesso a 8 novos pacotes de missões para prolongar sua viagem no mundo do One Piece: Pirate Warriors 3. Inclui ainda 8 fatos diferentes para seus personagens favoritos: Nami, Nico Robin, Trafalgar Law e 10 fatos do One Piece: Pirate Warriors 2.
System Requirements
Minimum
OS:

Windows 7 / 8 / 8.1

Storage:

20 GB

Processor:

Core2Duo 2.4GHz

Memory:

512 MB

Graphics:

512 MB Nvidia GeForce 8800 / ATI Radeon HD 3870

DirectX:

9.0c
Recommended
OS:

Windows 7 / 8 / 8.1

Storage:

20 GB

Processor:

Core i7 860

Memory:

1 GB

Graphics:

1 GB Nvidia GeForce GTX 550Ti / AMD Radeon HD 6790 DirectX: Version 9.0c

DirectX:

9.0c