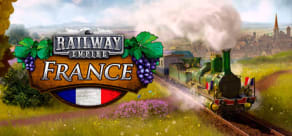 Railway Empire - France
Available Countries
Argentina
Bolivia
Brazil
Chile
Colombia
Ecuador
Falkland Islands
French Guiana
Guyana
Paraguay
Peru
South Georgia & South Sandwich Islands
Suriname
Uruguay
Venezuela
About the game
In the wake of Emperor Napoleon III's exile, the French monarchy has collapsed for the second time, and the Third Republic has taken its place. In the Railway Empire – France DLC you will decide your country's industrial future.
Either take sides with a militaristic general and increase the strength of France's borders in anticipation of a new war or help the minister of public work to rebuild the infrastructure of the country and undertake the controversial new "Eiffel Tower" project.
Highlights
New scenario – Into a new time (1874-1890);
Map expansion: France (available in Free Game and Sandbox modes);
10 historical engines such as the Coupe Vent (4-4-0) and Forquenot (2-4-2);
More than 12 new tradeable goods (e.g. wine and soft cheese) and 31 new cities ;
'Concession' feature: The map is divided into sections. Buy concessions to gain access to new building grounds (also available on the full North American map);
New songs and updated characters.
System Requirements
Minimum
OS:

Windows 7 SP1 / Windows 8.1 / Windows 10 (64bit versions)

Storage:

7 GB

Processor:

Intel Core i5 750 - 2.6 GHz / AMD Phenom II X4 - 3.2 GHz

Memory:

4 GB

Graphics:

nVidia GeForce GTX460 / AMD Radeon HD5870 (2048MB VRAM with Shader Model 5.0)

DirectX:

11
Recommended
OS:

Windows 7 SP1 / Windows 8.1 / Windows 10 (64bit versions)

Storage:

7 GB

Processor:

Intel Core i5 2400s - 2.5 GHz / AMD FX 4100 - 3.6

Memory:

8 GB

Graphics:

nVidia GeForce GTX 680 / AMD Radeon HD7970 (2048MB VRAM /Shader Model 5.0)

DirectX:

11
Minimum
OS:

Ubuntu 16.04.3 LTS + SteamOS

Storage:

7 GB

Processor:

Intel Core i5 750 - 2.6 GHz / AMD Phenom II X4 @ 3.2 GHz

Memory:

4 GB

Graphics:

nVidia GeForce GTX460 / AMD Radeon HD5870 (2048MB VRAM with Shader Model 5.0)
Recommended
OS:

Ubuntu 16.04.3 LTS + SteamOS

Storage:

7 GB

Processor:

Intel Core i5 2400s - 2.5 GHz or AMD FX 4100 - 3.6

Memory:

4 GB

Graphics:

nVidia GeForce GTX 680 or AMD Radeon HD7970 (2048MB VRAM / Shader Model 5.0)