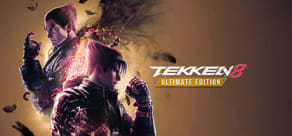 TEKKEN 8 - Ultimate Edition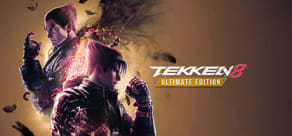 TEKKEN 8 - Ultimate Edition
Available Countries
Antigua & Barbuda
Argentina
Bahamas
Barbados
Belize
Bermuda
Bolivia
Brazil
Chile
Colombia
Costa Rica
Cuba
Dominica
Dominican Republic
Ecuador
El Salvador
Falkland Islands
French Guiana
Grenada
Guatemala
Guyana
Haiti
Honduras
Jamaica
Mexico
Nicaragua
Panama
Paraguay
Peru
Puerto Rico
South Georgia & South Sandwich Islands
St. Kitts & Nevis
St. Lucia
St. Vincent & Grenadines
Suriname
Uruguay
Pre-order
Pre-order TEKKEN 8 and secure the following content as a bonus:
Avatar Costume: Paul Phoenix Set
A set with five items that allows you to become Paul Phoenix!
About the game
Get ready for the next chapter of the legendary fighting game franchise: TEKKEN 8.
The Ultimate Edition includes:
TEKKEN 8
Year 1 Playable Character Pass
Four additional playable characters
Avatar Appearance: Kinjin
Character Costume: Golden Suit Pack
One costume for each playable character (32 in total)
Avatar Costume: Classic TEKKEN T-shirt Set
32 designs
Avatar Appearances: Kazuya Mishima, Jin Kazama, and Jun Kazama
*In addition to this edition, the Deluxe and Base editions are also available. Avoid purchasing the same content twice.
Highlights
32 fighters for the new generation
Completely revamped character visuals. Incredibly detailed and fully remade models from scratch, along with high-quality graphics, push the limits of next-gen hardware, adding more weight and atmosphere to TEKKEN's iconic fights. Vivid and destructible scenarios come together to create complete immersion, offering the ultimate gaming experience.
New game, new rivals
Fist meets destiny in TEKKEN 8. With a record for the longest-running narrative in gaming, the TEKKEN series starts a new chapter with TEKKEN 8, continuing the tragic story of the Mishima and Kazama bloodlines. The conflict between father and son, capable of shaking the world, begins six months after the end of their last bitterly fought battle. Jin Kazama's tale of growth and determination marks a new milestone in this timeless saga.
Thrilling, frenetic battles full of Aggressiveness and Destruction
The new Heat battle system pushes the aggression of fights to the edge while maintaining the unique gameplay and tactics of the TEKKEN series. Battle intensity is heightened with destructible stages. Players and spectators will be captivated by the devastating Rage Arts. All these cutting-edge mechanics come together to make TEKKEN 8 the most exhilarating title in the series to date!
Embrace the Tekken life!
In the new solo game mode, Arcade Mission, you can create your own avatar and embark on your new Tekken life. Face various rivals in different arcade modes to uncover the story, all while learning the fundamental techniques and practices of TEKKEN 8. Unlock a variety of customization items for characters and avatars along the way.