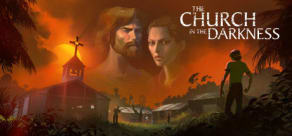 The Church in the Darkness
Available Countries
Antigua & Barbuda
Argentina
Bahamas
Barbados
Belize
Bermuda
Bolivia
Brazil
Chile
Colombia
Costa Rica
Cuba
Dominica
Dominican Republic
Ecuador
El Salvador
Falkland Islands
French Guiana
Grenada
Guatemala
Guyana
Haiti
Honduras
Jamaica
Mexico
Nicaragua
Panama
Paraguay
Peru
Puerto Rico
South Georgia & South Sandwich Islands
St. Kitts & Nevis
St. Lucia
St. Vincent & Grenadines
Suriname
Uruguay
Venezuela
About the game
No one is forced to join a cult. The cult just welcomes you. The cult understands you. It envelops you until the words become more than true; they complete your soul.
In the late 1970s, the charismatic Isaac and Rebecca Walker lead the Collective Justice Mission. Labeled radicals and feeling persecuted by the US government, they have moved with their followers to the only place they believe they can create a socialist utopia: the jungles of South America. There, they built what they call the City of Freedom. However, the relatives left behind in the US are worried: what is really going on in this jungle community?
You play as Vic, a former law enforcement officer who has infiltrated Liberty City to watch over his nephew, Alex. Whether using stealth or violence, you must infiltrate the community, find out what's going on, and locate your nephew before it's too late.
Highlights
What will your ending be? Will you rescue Alex, whether he likes it or not? Will you face the cult leaders? Or will you join the cult?
Unlock all endings for each scenario by experimenting with different playstyles or making different choices.
Multiple ways to play: Avoid detection completely, non-lethally knocking out guards and civilians or killing anyone who crosses your path.
Interview Liberty City characters and look for clues. Documents and letters scattered around the community will give clues to the true nature of the place.
Fully voiced, starring Ellen McLain (better known as GLaDOS in Portal) and John Patrick Lowrie (Team Fortress 2's Sniper) as cult leaders Rebecca and Isaac Walker.