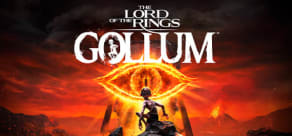 The Lord of the Rings: Gollum
Available Countries
Antigua & Barbuda
Argentina
Bahamas
Barbados
Belize
Bermuda
Bolivia
Brazil
Chile
Colombia
Costa Rica
Cuba
Dominica
Dominican Republic
Ecuador
El Salvador
Falkland Islands
French Guiana
Grenada
Guatemala
Guyana
Haiti
Honduras
Jamaica
Mexico
Nicaragua
Panama
Paraguay
Peru
Puerto Rico
South Georgia & South Sandwich Islands
St. Kitts & Nevis
St. Lucia
St. Vincent & Grenadines
Suriname
Uruguay
Venezuela
About the game
The Lord of the Rings: Gollum is an official adaptation based on the literary works of J.R.R. Tolkien.
He has nothing left to lose... How far will he go to get his Precious back?
The story of The Lord of the Rings: Gollum takes place parallel to the events of The Fellowship of the Ring™ and is an action-adventure game and an epic interactive experience. Play as the enigmatic Gollum on a perilous journey and discover how he bested Middle-earth's mightiest characters.
Highlights
A SKY STORY - He survived indescribable perils, driven by his irrepressible desire to once again place his hands on the object that was stolen from him. Embora is a central part of the story created by J.R.R. Tolkien, his desperate mission was never told in detail. Finally, get to know the sketchy story of Gollum: an experience incredibly faithful to the books. Since his escape from Mordor, from where he escaped from the Mouth of Sauron and the demonic spider Laracna, tied to the masmorras of the Elf King Thranduil, father of Legolas, Gollum has many adventures and encounters throughout his extraordinary journey.
YEAR AND DISSIMULAÇÃO - Corrupted hair Over the course of hundreds of years, Gollum developed exceptional agility and high cunning. Use these unique abilities to explore, infiltrate legendary locations and reach great heights. I passed the Orcs while over the Shadow Tower of Barad-dûr and two Elves escaped into the mysterious Trevamata. But he is not a warrior, Gollum is capable of strangling a careless enemy when the opportunity arises... or of finding a more creative and less risky way to escape from some problem.
A CHARACTER, TWO PERSONALITIES - Gollum is two of the most fascinating characters in the universe of O Senhor dos Anéis. In 500 years, he passed through events that would destroy two more resilient beings. But Gollum does not break; He is cocky, he adapts…
Tortured by his split personality, he can be fierce and evil like Gollum, more friendly and cautious like Sméagol. It is up to you to decide which of the two personalities will succeed in the difficult moral choices that will dictate the future of their precarious alliances.
System Requirements
Minimum
OS:

Windows 10/11

Storage:

45 GB

Processor:

Intel Core i5-4690 / AMD Ryzen 3 1300X

Memory:

8 GB

Graphics:

Nvidia GTX 1060/ 6GB / AMD Radeon R9 290X/ 4GB

DirectX:

12
Recommended
OS:

Windows 10/11

Storage:

45 GB

Processor:

Intel Core i7-8700K / AMD Ryzen 5 3600X

Memory:

16 GB

Graphics:

NVIDIA GeForce RTX 3070/ 8GB (with DLSS Quality Setting) / AMD Radeon RX 6750 XT/ 12GB

DirectX:

12