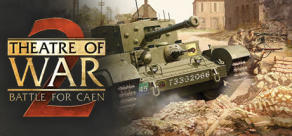 Theatre of War 2 - Battle for Caen
Available Countries
Antigua & Barbuda
Argentina
Bahamas
Barbados
Belize
Bermuda
Bolivia
Brazil
Chile
Colombia
Costa Rica
Cuba
Dominica
Dominican Republic
Ecuador
El Salvador
Falkland Islands
French Guiana
Grenada
Guatemala
Guyana
Haiti
Honduras
Jamaica
Mexico
Nicaragua
Panama
Paraguay
Peru
Puerto Rico
South Georgia & South Sandwich Islands
St. Kitts & Nevis
St. Lucia
St. Vincent & Grenadines
Suriname
Uruguay
Venezuela
About the game
Theatre of War 2: Battle for Caen is an expansion pack for the critically acclaimed Theatre of War 2: Kursk 1943, an historical real-time tactical wargame. In Battle for Caen, players will control units of the British 11th Armored Division during Operation Epsom and Goodwood which took place from June 26 to July 19, 1944. Get ready for strong opposition though from the forces of the 2nd, 21st and 1st SS and 12th SS Panzer Divisions and witness even more spectacular battles involving dozens of impeccably modeled AFVs and hundreds of soldiers.
Highlights
Brings totally new Theatre of War on the Western Front to owners of ToW2: Kursk 1943;
New historical British campaign "Battle for Caen";
Over 40 new UK, Wehrmacht and SS units and infantry squads were added to the already expansive unit list of the original Kursk 1943 game. Including: Daimler Littlejohn, Gepard, Crusader III AA, 3 inch mortar, Achilles, Challenger, Cromwell, Churchill, Sherman Firefly, PaK 43, Tiger B with Porsche turret, Pz. III M, Pz. IV H and "A" and "G" Panthers;
Eight new Normandy maps are also playable in multiplayer and with the scenario generator;
Authentic markings on all vehicles;
Numerous additions of UK and German infantry weapons and ammunition, including PIAT, StG 44, Panzerschrek and Panzerfaust 30.
System Requirements
Minimum
OS:

Windows XP / Vista

Storage:

4 GB

Processor:

Intel Core 2 Duo / AMD Athlon64 X2 (2,4GHz+)

Memory:

2GB

Graphics:

GeForce 5700 / Radeon 9600 +

DirectX:

9.0
Recommended
OS:

64-bit Windows 7 +

Storage:

4 GB

Processor:

Intel Core 2 Duo E8400 +

Memory:

4 GB

Graphics:

GeForce 5700 / Radeon 9600 +

DirectX:

9.0