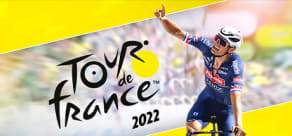 Tour de France 22
Available Countries
Antigua & Barbuda
Argentina
Bahamas
Barbados
Belize
Bermuda
Bolivia
Brazil
Chile
Colombia
Costa Rica
Cuba
Dominica
Dominican Republic
Ecuador
El Salvador
Falkland Islands
French Guiana
Grenada
Guatemala
Guyana
Haiti
Honduras
Jamaica
Mexico
Nicaragua
Panama
Paraguay
Peru
Puerto Rico
South Georgia & South Sandwich Islands
St. Kitts & Nevis
St. Lucia
St. Vincent & Grenadines
Suriname
Uruguay
Venezuela
About the game
BECOME A LEGEND
In Tour de France 2022, you can create your own rider in Pro Leader mode. Choose your profile (climber, sprinter, driller or versatile) and become a future winner of the Grande Boucle or an expert of the great classics!
Take control of a team in Pro Team mode! You start at the lowest levels and must prove your worth to receive invitations from the organizers to high level races.
Create your own tour with the My Tour mode and the 92 available stages. Choose teams, rest days and stages to build your own unique tour.
Highlights
New online mode with leaderboard
Racing incidents (falls, illness…)
New preparation system
New interface on cobblestone sections
More intense races with a more aggressive squad and more collaborative breakups
All 21 official stages of the Tour de France 2022
New ""Primavera Classic"" inspired by a great Italian race
3 new teams: Eolo-Kometa Cycling Team, Caja Rural-Seguros RGA and Uno-X Pro Cycling Team
 
NEW ONLINE MODE: RACE OF THE WEEK - Enjoy a new challenge each week, competing against players from all over the world as you try to reach the top of the leaderboard! The team and controllable objectives – for example, winning the overall ranking, scoring more points in the mountain stages – differ by race.
NEW: RACING INCIDENTS - You can now choose to enable or disable racing incidents and their consequences. If you enable them (for you and your opponents or just your opponents), you can choose their frequency and enable or disable their consequences, which vary according to the severity of the incident: loss of energy for short or long duration, or even even withdrawal. Be prepared to adapt, as your strategy may need to be completely re-evaluated at any time.
NEW: RACE PREPARATION - To add more unpredictability to races, a new prep system has been added. Five random riders (from your team or the peloton) will be especially well prepared for the race and another five may underperform. Unfortunately, you can't know who these riders will be... You'll need to keep an eye on all your opponents.
OTHER IMPROVEMENTS - To make the cobblestone sections of races more immersive, we've added shudder to the entire UI. This new feature reflects the difficulty of cobblestone sections. You've never experienced Arenberg's trench like this! In the 2022 Tour de France, the races are more intense than ever, with even bigger starting splits and better collaboration on every split. You will need to adapt your strategy accordingly!
System Requirements
Minimum
OS:

Windows 7

Storage:

30 GB

Processor:

Intel Core i5-3470 or AMD FX-8350

Memory:

4 GB

Graphics:

Nvidia GeForce GTX 650/ 2 GB or AMD Radeon R7 250X, 2 GB

DirectX:

Versão 11
Recommended
OS:

Windows 10

Storage:

30 GB

Processor:

Intel Core i5-7600 or AMD Ryzen 5 2600

Memory:

8 GB

Graphics:

Nvidia GeForce GTX 750 Ti/ 2 GB or AMD Radeon HD 7850, 2 GB

DirectX:

Versão 11