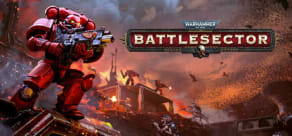 Warhammer 40,000: Battlesector
Available Countries
Antigua & Barbuda
Bahamas
Barbados
Belize
Bermuda
Bolivia
Brazil
Chile
Costa Rica
Cuba
Dominica
Dominican Republic
Ecuador
El Salvador
Falkland Islands
French Guiana
Grenada
Guatemala
Guyana
Haiti
Honduras
Jamaica
Mexico
Nicaragua
Panama
Paraguay
Peru
Puerto Rico
South Georgia & South Sandwich Islands
St. Kitts & Nevis
St. Lucia
St. Vincent & Grenadines
Suriname
Uruguay
Venezuela
About the game
Warhammer 40,000: Battlesector is a fast-paced turn-based strategy game set in the grimdark universe of the 41st Millenium. Pick your force, develop your army, field mighty heroes and fight for victory using superior strategy, awesome abilities, and devastating weaponry.
Highlights
Age of Crimson Dawn: Experience an epic twenty mission single-player campaign that explores the aftermath of the Devastation of Baal. Help Sergeant Carleon and his allies purge the Tyranid infestation on Baal Secundus, and preserve the honour of the noble Blood Angels.
Skirmish Mode: Fight across the surface of Baal on maps of your choosing and select either the Blood Angels or the Tyranids in the Skirmish mode. Completely customize your army list by picking your units, heroes and their loadouts.
Forge Your Armies: Command iconic units like the Sanguinary Priest, the Librarian Dreadnought, and the Hive Tyrant to annihilate your foes. Use over 60 abilities and 50 weapons to orchestrate your opponent's bloody demise.
Build Momentum: Each faction has a unique Momentum system that can result in a Surged unit. Units that Surge are able to string together superhuman chains of actions, or use the opportunity to further upgrade their abilities.
Call In Air Support: Use Command Points to call in faction-specific air support abilities. The Blood Angels Stormraven can obliterate xenos with a missile barrage, or deep strike a unit of veteran Assault Marines behind enemy lines. Meanwhile, the Tyranid Harpy can devastate the enemy defenses with its Sonic Screech, or scatter the battlefield with its deadly Spore Mines.
Face Your Friends On The Battlefield: With live and asynchronous multiplayer, and hotseat modes available, there's no excuse not to take your friends to war.
System Requirements
Minimum
OS:

Windows 10 64-bit

Storage:

20 GB

Processor:

i5-4460

Memory:

4 GB

Graphics:

Geforce GTX 750 2GB

DirectX:

11
Recommended
OS:

Windows 10 64-bit

Storage:

20 GB

Processor:

i5-6400

Memory:

8 GB

Graphics:

Geforce GTX 950 2GB

DirectX:

11