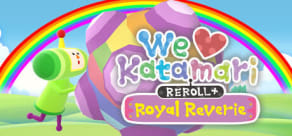 We Love Katamari REROLL+ Royal Reverie
Available Countries
Antigua & Barbuda
Argentina
Bahamas
Barbados
Belize
Bermuda
Bolivia
Brazil
Chile
Colombia
Costa Rica
Cuba
Dominica
Dominican Republic
Ecuador
El Salvador
Falkland Islands
French Guiana
Grenada
Guatemala
Guyana
Haiti
Honduras
Jamaica
Mexico
Nicaragua
Panama
Paraguay
Peru
Puerto Rico
South Georgia & South Sandwich Islands
St. Kitts & Nevis
St. Lucia
St. Vincent & Grenadines
Suriname
Uruguay
About the game
One day, the King of Cosmo destroyed all the stars of the universe by accident. He sent his son, or Prince, to Terra and ordered him to raise a large katamari.
O Prince Rolou or Katamari, who grew bigger and bigger and absorbed all the things of Earth. The katamari that grew fluctuating scintillatingly through space and trouxe back or forth like a star.
As the star restored, the number of fãs do Rei gradually grew all over the world. The King wanted to answer the wishes of successo feitos fãs fãs, and the Prince continued to roll the katamari to make everyone's dreams come true.
Highlights
We Love Katamari Damacy is fresh! We Love Katamari Damacy, the second title in the Katamari series released in 2005, has been remastered. The graphics have been completely redesigned and the game interface has been revamped to make gameplay easier.
There are also new additional features available, such as Royal Reverie! In his youth, the King received a strict education from his father, the Great King. New challenges have been added, where you can roll around like the King at a young age! It's possible to roll the days of hard study and intense training into 5 brand new challenges. Will the young King be able to complete the challenges? Plus, a selfie mode has been added that allows the Prince and his cousins to take quick snaps as they roll through the levels!
A simple but very deep game! Roll katamari, absorb objects and increase katamari. You can roll anything from paper clips and homemade snacks, phone booths and city buildings to living creatures such as people and animals. When the katamari is completed, it will turn into a star that colors the night sky. You can't roll anything larger than the katamari's current size, so the key is to think ahead of time about the order of things you'll roll through the level!
System Requirements
Minimum
OS:

Windows 10 64-bit

Storage:

6 GB

Processor:

Intel Core i3-2125 or AMD A8-6600K

Memory:

4 GB

Graphics:

GeForce GTX 750 Ti or Radeon HD 6950 or Radeon Vega 11 or Intel Iris Xe

DirectX:

11
Recommended
OS:

Windows 10 64-bit

Storage:

6 GB

Processor:

Intel Core i5-2300 or AMD FX-8350

Memory:

8 GB

Graphics:

GeForce GTX 760 or Radeon R9 280

DirectX:

11