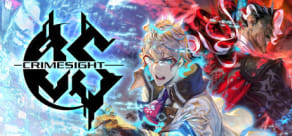 CRIMESIGHT
Available Countries
Belize
Canada
Costa Rica
El Salvador
Greenland
Guatemala
Honduras
Mexico
Nicaragua
Panama
Puerto Rico
St. Pierre & Miquelon
United States
About the game
Who is... or who will be the murderer?! Analyze the crime scene and unravel a mystery in this new competitive simulation game!
London, 2075.
A cutting-edge predictive system called Foresight AI was developed to predict crimes based on network data. The result is a 90% reduction in crime worldwide.
However, the system soon predicts an inevitable incident, one that could bring the world to ruin.
Fearing the worst, the developers of Foresight AI created a new artificial intelligence capable of locating and solving the most heinous crimes before they happen.
She was nicknamed "Sherlock" in honor of the incomparable detective of classic literature.
While working on multiple cases at once, Sherlock discovers a distressing fact:
at the center of every case, like a spider in its web, ready to pounce, is Moriarty, another artificial intelligence with abilities comparable to Sherlock's.
Highlights
A terrible murder is about to happen in a mansion during a blizzard. But who will be the victim?
Among the game's characters, there is a "murderer", the person tasked with committing the crime, and a "target", the murderer's future victim.
The player on Moriarty's side needs to fulfill objectives to commit the murder, while the players on Sherlock's side must stop the crime.
Over the course of the game, the identities of the killer and the target are revealed.
Will you help Moriarty outsmart Sherlock and eliminate the target?
Or will he join Sherlock's team to thwart Moriarty's sinister plans?
System Requirements
Minimum
OS:

Windows10(64bit)

Storage:

2 GB

Processor:

Intel Core i5 7300U 2.6GHz

Memory:

8 GB

Graphics:

Intel HD Graphics 620

DirectX:

Versão 11
Recommended
OS:

Windows10(64bit)

Storage:

2 GB

Processor:

Intel Core i3 3220 3.3GHz

Graphics:

NVIDIA Geforce GTX 1050Ti

DirectX:

Versão 12