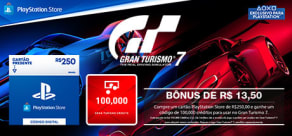 R$250 PS Store - Digital Gift Card + 100,000 GT7 Credits
About the game
Gran Turismo®️ 7 arrives on Playstation with exclusive content on Nuuvem!
Purchasing your R$250 PlayStation Store - Digital Gift Card from 05/04/2022 will grant you DLC that includes 100,000 Credits (Cr.). in game currency that can be used in Gran Turismo®️ 7 to purchase new content!
Ensure your PlayStation content with PlayStation Store convenience. PlayStation Store - Virtual Card 250 Reais allows you to buy downloadable games, game add-ons, full-length movies, TV shows and even PlayStation Plus subscriptions!
Buy as a gift! For yourself or someone else.
⚠️The DLC only releases the bonus 100,000 Credits in the game currency of Gran Turismo®️ 7. Purchases before 05/04/2022 do not qualify for this offer. Requires the Gran Turismo®️ 7 game, sold separately. Legal: Gran Turismo 7 2022 Sony Interactive Entertainment Inc. Developed by Polyphony Digital Inc. "Polyphony Digital logo", "Gran Turismo" and "GT" are registered trademarks of Sony Interactive Entertainment Inc. Manufacturers, cars, names, trademarks and associated images appearing in the game include, in some cases, trademarks and/or copyrighted materials of their respective holders. Descriptions or depictions of actual places, entities, businesses or organizations are not intended to and do not imply any sponsorship or endorsement of this game by such parties. All rights reserved.