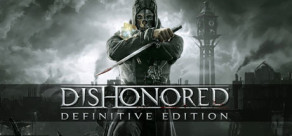 Dishonored: Definitive Edition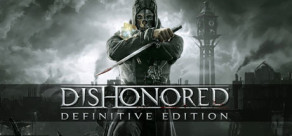 Dishonored: Definitive Edition
About the game
Experience the ultimate Dishonored collection with Game of the Year Edition. This complete version includes the Dishonored base game, winner of more than 100 game prizes of the year, as well as all its additional content - Dunwall City Trials, The Knife of Dunwall, The Brigmore Witches and Void Walker's Arsenal.
Developed by Arkane Studios, winner of the 2012 Online Studio Award of the Year by Edge Online. Dishonored is an engaging first-person action game that takes you to the skin of a supernatural killer motivated by revenge. In creative ways, eliminate your targets with a flexible combat system while combining the numerous supernatural abilities, weapons and very unusual devices that are at your disposal. Pursue your enemies under cover of darkness or attack them frontally mercilessly with guns in hand.
Highlights
The Knife of Dunwall - Take on the role of Daud, the legendary killer who killed the Empress. This second pack for the first-person action award-winning Arkane Studios game gives you a fresh perspective on Daud, with access to your weapons, devices, allies and supernatural abilities.
The Brigmore Witches - Continue your journey as the legendary assassin, Daud, in The Brigmore Witches. Access Daud's weapons, his items, allies and supernatural abilities once again, and take this incredible narrative, which began with The Knife of Dunwall to its end.
Dunwall City Trials - Enter the strange world of Dunwall City Trials, the first additional content from the critically acclaimed FPS of Arkane Studios. Your combat, stealth and movement skills will be put to the test as you advance through 10 different maps that feature a variety of changes.
Void Walker's Arsenal - With the Void Walker's Arsenal package, you will have access to four previously available content packs only through Dishonored pre-sale. These packages offer unique character bonuses, additional bone charms slots, and more.
Bonus content
Experience the ultimate Dishonored collection with Game of the Year Edition. This complete version includes:
The base game Dishonored
Dunwall City Trials DLC
The Knife of Dunwall DLC
The Brigmore Witches DLC
Void Walker's Arsenal DLC
System Requirements
Minimum
OS:

Windows Vista / Win 7 / Win 8

Storage:

9 GB

Processor:

3.0 GHz Dual Core

Memory:

4 GB

Graphics:

512 MB, NVIDIA GeForce GTX 460 / ATI Radeon HD 5850

DirectX:

9.0c
Recommended
OS:

Windows Vista / Win 7 (64bits) / Win 8 +

Storage:

9 GB

Processor:

2.4 GHz Quad Core +

Memory:

4 GB

Graphics:

768 MB, NVIDIA GeForce GTX 460 / ATI Radeon HD 5850

DirectX:

9.0c