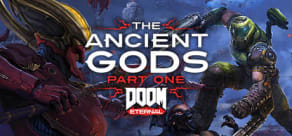 DLC
DOOM Eternal: The Ancient Gods - Part One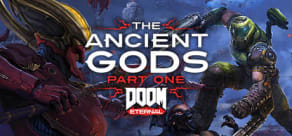 DLC
DOOM Eternal: The Ancient Gods - Part One
About the game
The Ancient Gods – Part One is the first campaign expansion for the critically acclaimed DOOM Eternal.
Your war is not over… slaying the Khan Maykr left an imbalance of power that threatens all of creation. The legions of Hell have razed the heavens, threatening to expand their control across dimensions. With the aid of an old ally, battle your way back to Urdak and decide the fate of the cosmos. Your mission is now your own.
NEW MISSION
Experience a new mission in your eternal fight against evil. Unleash your vengeance and face your greatest test as you march back to the Maykr's realm. Defeat powerful new threats, restore order to the heavens and unearth the corruption that has thrown the universe into chaos.
NEW LOCATIONS
From the industrial rain-swept decks of the oceanic UAC Atlantica Facility on Earth to the corpse littered Blood Swamps of Hell to the crumbling ruins of a demon-infested Urdak, you will visit epic new locations to eviscerate the armies of Hell.
NEW ENEMIES
Change your tactics as you face Hell's newest threats that add more depth and challenge to combat. Face the Spirit, an ethereal enemy that buffs other demons with added strength and speed, and the Blood Maykr – a corrupted Maykr Angel armed with a powerful staff that can be hurled with thunderbolt force.
*DOOM Eternal: The Ancient Gods - Part One does not require a copy of DOOM Eternal to play.
Highlights
Nova Missão: Jogue uma nova missão em sua eterna luta contra o mal. Execute sua vingança e encare seu maior desafio, marchando de volta à dimensão dos Maykrs. Derrote ameaças novas e poderosas, restaure a ordem ao firmamento e desvende a corrupção que mergulhou o universo em caos.
Novos Locais: Do convés industrial e açoitado pela chuva da Unidade Atlântica da UAC na Terra até os Pântanos de Sangue tomados de cadáveres no Inferno e as ruínas desmoronantes e infestadas de demônios do que restou de Urdak, você visitará locais novos e épicos para eviscerar os exércitos do Inferno.
Novos Inimigos: Mude de tática ao enfrentar novas ameaças do Inferno que deixam o combate mais desafiador e complexo. Encare o Espírito, um inimigo etéreo que aumenta a força e a velocidade de outros demônios, e o Maykr de Sangue, um Anjo Maykr corrompido que brande seu poderoso cajado com a força de um raio.
System Requirements
Minimum
OS:

64-bit Windows 7 / 64-Bit Windows 10

Storage:

50 GB

Processor:

Intel Core i5 @ 3.3 GHz+ / AMD Ryzen 3 @ 3.1 GHz+

Memory:

8 GB

Graphics:

NVIDIA GeForce GTX 1050Ti / GTX 1060 / GTX 1650 / AMD Radeon R9 280 / AMD Radeon R9 290 / RX 470

Network:

Conexão de internet banda larga
Recommended
OS:

64-bit Windows 10

Storage:

50 GB

Processor:

Intel Core i7-6700K+ / AMD Ryzen 7 1800X+

Memory:

8 GB

Graphics:

NVIDIA GeForce GTX 1060 / NVIDIA GeForce 970 / AMD RX 480

Network:

Conexão de internet banda larga