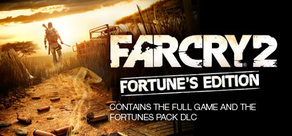 Far Cry 2 Fortune's Edition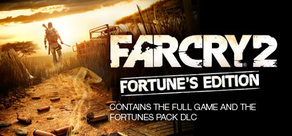 Far Cry 2 Fortune's Edition
About the game
You are a rent killer, trapped in a war-torn, malaria-prone African state and forced to do business with corrupt dictators between the two sides of the conflict in the hope of making this place your home.
You must discover and exploit the weaknesses of your enemies, neutralizing your superior firepower with surprise, subversion, dexterity and, of course, brute force.
NOTE: Far Cry 2 Fortune Edition includes the full Far Cry 2 game, including all previously released patches and additional DLC Fortune Edition content.
Highlights
Fire - Feel the heat of the most realistic fire you've ever seen in a game! Use the wind and its spread to surround and trap your enemies. Grab your Molotov cocktails or flamethrowers to devastate your enemies.
Destroying environment - No more obstacles: Everything is destructible and changeable, even in Multiplayer Mode. DUNIA engine's RealTree technology also offers the most realistic nature deterioration system ever made.
Open world - Experience real freedom while wandering over 50Km2 with no loading screen. Choose your own path in this vast environment and explore a living African world.
A Great Adventure - Fight for two rival factions and create your way to your main target at any cost. Accept more than 70 side quests to gain valuable information, new weapons and vehicles.
Unpredictable artificial intelligence - Doctors will drag injured soldiers into safe areas. Capangas will start to fear you. Your reputation and in-game actions will make your enemies drop their weapons and run for their lives. Feel the tension of never knowing exactly how your enemies will react.
MULTIPLAYER - Challenge your friends but be careful because you never know who your true friends are and who can betray you! All technical features of a single player mode are also present in multiplayer mode
Bonus content
Additional content in Single player:
3 New weapons: Silenced shotgun, Sawed-off shotgun, Crossbow;
2 New vehicles: Unimog, Quad;
Additional Content on Multiplayer:
Additional Weapons and 4 new maps: Cheap Labor, Last Resort, Lake Smear, Fort Fury.
System Requirements
Minimum
OS:

Windows XP / Vista

Storage:

12 GB

Processor:

Pentium 4 3,2 GHz, Pentium D 2,66 GHz, AMD Athlon 64 3500+

Memory:

1 GB

Graphics:

256 MB, Shader 3.0, NVidia 6800 / ATI X1650
Recommended
OS:

Windows XP / Vista

Storage:

12 GB

Processor:

Intel Core 2 Duo / AMD 64 X2 5200+ / AMD Phenom

Memory:

2 GB

Graphics:

512MB, NVidia 8600 GTS/ ATI X1900