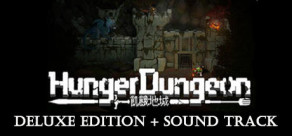 DLC
Hunger Dungeon Deluxe Edition + Sound Track
About the game
Hunger Dungeon Deluxe Edition gives you several permanent unlocks on your account, allowing you to enjoy the huge variety on offer without any time constraints.
"Hunger Dungeon" is a 1-6 player round-based Multiplayer Online Battle Arena game. Enter a cutthroat arena with more than 12 heroes including the Dwarf Forgemaster, Octo Pirate, Princess Ranger, and the Demonic Knight!
Highlights
Hunger Dungeon Soundtrack (Length of time; 7 mins, 30 seconds)
Permanently unlock the original 12 Heroes
+ Permanently unlock secondary skins for the original 12 Heroes:
Old Prisoner + Chuck Skin;
Beast Hero + Red Blood Clan Skin;
Goblin Profiteer + Bounty Hunter's Denim Skin;
Octo Pirate + Chef Whites Skin;
Samurai + Wandering Swordsman Skin;
Princess Ranger + Amazonian Huntress Skin;
Were-Vampire + Were-Rabbit Skin;
Nimble Assassin + Biological Warfare Skin;
Vagrant Ninja + Gray Skin;
Element Fuse + Merlin Skin;
Demonic Knight + Scythe Maiden Skin;
Auto Repair + Version 2.00 Skin.
System Requirements
Minimum
OS:

windows XP +

Storage:

300 MB

Processor:

1.4 GHz

Memory:

512 MB

Graphics:

OpenGL 1.1
Minimum
OS:

Mac OS X 10.8

Storage:

300 MB

Processor:

1,7 GHz Dual-Core Intel Core i7

Memory:

512 MB

Graphics:

Intel HD Graphics 5000
Minimum
OS:

Linux Ubuntu 12.04 or later / SteamOS 2.20

Storage:

300 MB

Processor:

Intel Core 2 / AMD +

Memory:

512 MB

Graphics:

OpenGL 2.0 / 512 MB VRAM