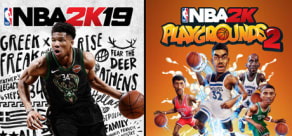 NBA 2K19 + NBA 2K PLAYGROUNDS 2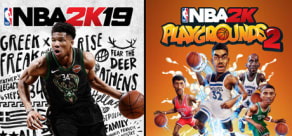 NBA 2K19 + NBA 2K PLAYGROUNDS 2
About the game
This bundle includes:
NBA 2K19
NBA 2K Playgrounds 2
35,000 VC for NBA 2K19
NBA 2K Playgrounds 2 MVP Pack – 7,500 VC
NBA 2K19: NBA 2K celebrates 20 years of redefining what sports gaming can be, from best in class graphics & gameplay to groundbreaking game modes and an immersive open-world "Neighborhood." NBA 2K19 continues to push limits as it brings gaming one step closer to real-life basketball excitement and culture.
NBA 2K PLAYGROUNDS 2: NBA arcade action is back with NBA 2K Playgrounds 2! The sequel to the original smash hit takes street balling to the next level with a massive roster of current and retired NBA players, improved online matchmaking with dedicated servers, four-player online matches, three-point contests, new playgrounds, custom matches, and more! Pick your team, get ready to jam, and Ball Without Limits!
System Requirements
Additional notes:
Minimum System Requirements PC - NBA 2K19:
OS: Windows 7 64-bit, Windows 8.1 64-bit or Windows 10 64-bit
Processor: Intel® Core™ i3-530 @ 2.93 GHz / AMD FX-4100 @ 3.60 GHz or better
Memory: 4 GB RAM
Graphics: NVIDIA® GeForce® GT 450 1GB / AMD® Radeon™ HD 7770 1GB or better
DirectX: Version 11
Storage: 80 GB available space
Sound Card: DirectX 9.0x compatible Dual-Analog Gamepad: Recommended
Additional Notes: Initial installation requires one-time internet connection for Steam authentication; software installations required (included with the game) include DirectX and Visual C++ Redistributable 2012.
RECOMMENDED System Requirements PC - NBA 2K19:
OS: Windows 7 64-bit, Windows 8.1 64-bit or Windows 10 64-bit 
Processor: Intel® Core™ i5-4430 @ 3 GHz / AMD FX-8370 @ 3.4 GHz or better
Memory: 8 GB RAM 
Graphics: NVIDIA® GeForce® GTX 770 2GB / AMD® Radeon™ R9 270 2GB or better
DirectX: Version 11 
Storage: 80 GB available space 
Sound Card: DirectX 9.0c compatible sound card 
Additional Notes: Dual-analog gamepad

Minimum System Requirements PC - NBA 2K Playgrounds 2:
OS: Windows 7 64-bit, Windows 8.1 64-bit or Windows 10 64-bit
Processor: Intel core i3 CPU 530 2.93GHz
Memory: 4 GB RAM
Graphics: GeForce GT 630
DirectX: Version 11
Storage: 6 GB available space
Sound Card: DirectX 9.0x compatible sound card
RECOMMENDED System Requirements PC - - NBA 2K Playgrounds 2:
OS: Windows 7 64-bit, Windows 8.1 64-bit or Windows 10 64-bit
Processor: Intel Core i5-4690 3.50 Ghz or better
Memory: 8 GB RAM
Graphics: GeForce GTX 670, similar or better
DirectX: Version 11
Network: Broadband Internet connection
Storage: 6 GB available space
Sound Card: DirectX 9.0x compatible sound card